They are not typical year-round homes; they're more like well-appointed summer dwellings. Nor are they stylistically similar. But Seaview in Aquinnah and the Corduroy House in West Tisbury share one remarkable feature: in a day when the cost of new construction on the Island regularly runs to $400 or more per square foot, both were built for less than $200 per square foot.
Admittedly, neither home was built from scratch. Jon and Jill Posner already owned land with a water view and an extant teardown before building Seaview. Similarly, a tiny home already existed when Bob Stafford and Mark Ellis, principals of Carpenters & Company, began investing in Corduroy House with an eye toward selling it for a profit. In both cases, however, a combination of sweat equity, careful planning, and creative sourcing resulted in spectacular new construction at reasonable prices.
Corduroy House (named for an early and discarded idea for the siding) began as a 384-square-foot one-bedroom home in West Tisbury. The original owners built it to avoid an impending change in zoning laws that would have made the one-and-a-half acre lot un-buildable. Stafford and Ellis purchased it during the recession in 2008, in part to keep their crew employed. "[Business] was very slow," Stafford recalls. "We wanted to keep our company going. We felt that this real estate purchase would have some possibilities."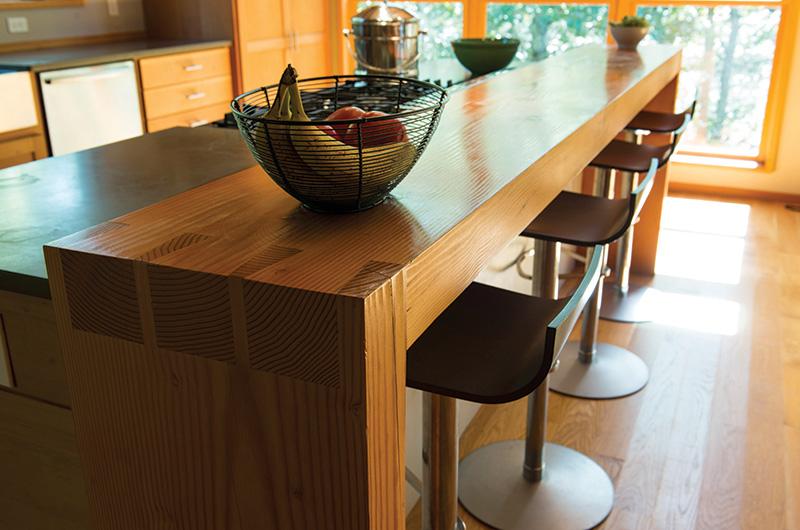 Working with architect Dave Johnson, Carpenters & Company developed a plan to expand the tiny structure into a real vacation home. "We decided to add a 'box' to it," says Stafford. "We were thinking inside the box when everyone was thinking outside the box."
Their strategy was to find quality materials at affordable prices and to assemble them in uncomplicated ways, thus reducing labor costs. Stafford, who is a fireball of red hair and kinetic energy, explains: "We were online trying to find what was hot and affordable and would fit the architecture and perform well." They purchased stone, wood flooring, plumbing fixtures, electrical fixtures, yellow pine for the ceiling, and much more from online stores. During the day, both partners joined the crew of four on the building site.
"Value engineering" reduced labor costs. The back-to-back inside-outside fireplace was designed to use whole blocks of stone so there was no cutting. Steel beams running the entire width of the house also were left uncut. Rather than encasing them in sheetrock, the beams were painted, saving on both labor and materials. Many of the windows and doors were trimmed very simply, without sills, and one wall is tongue-and-groove boards – more stacking than building.
"When you're putting a house together, all of a sudden you realize how much time your crew is spending on something that didn't seem like it was going to be that hard," explains Ellis, whose laid-back style complements his partner's energy nicely. "So we focused on stuff that's easy to put together."
Creative repurposing of materials saved even more money. Douglas fir two-by-twos left over from the banisters were used to frame bathroom vanities. Industrial lighting fixtures were incorporated extensively. Clear-coated concrete with radiant heat created a striking floor on the lower level. The breakfast bar was salvaged from another project.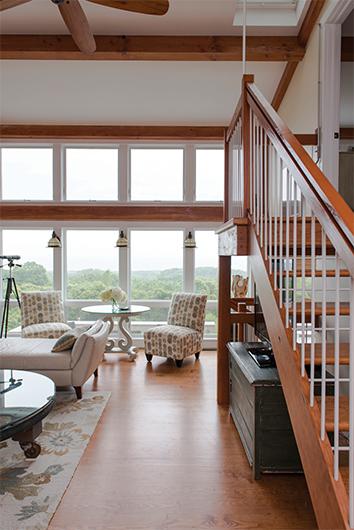 Corduroy House did not remain on spec for long.
Donald and Lauren Miller of Lowell, Massachusetts, found a small ad that Stafford had placed in a real estate magazine. "It wasn't even listed yet," Lauren recalls. "It was just framed – in the very early stages of construction – but we just had a feeling about it. Bob told us about his plans and we knew it was something we were very interested in."
"It was very exciting," she says of watching the process after they had bought the house. "It wasn't anything we'd ever seen before. We had a little bit of input, but mostly stayed out of the way. We loved their plans and ideas."
In spite of the unusual variety of materials, the finished home is anything but a hodgepodge. The combination of soft wood, stone, and industrial materials creates a mélange of textures in a remarkably warm and inviting home. Large windows in the open living-dining-kitchen area provide a flood of light on even the gloomiest days. Architectural details such as the suspended staircase to the lower level and the large industrial stove hood that dominates the kitchen add a well-balanced flavor of modernity.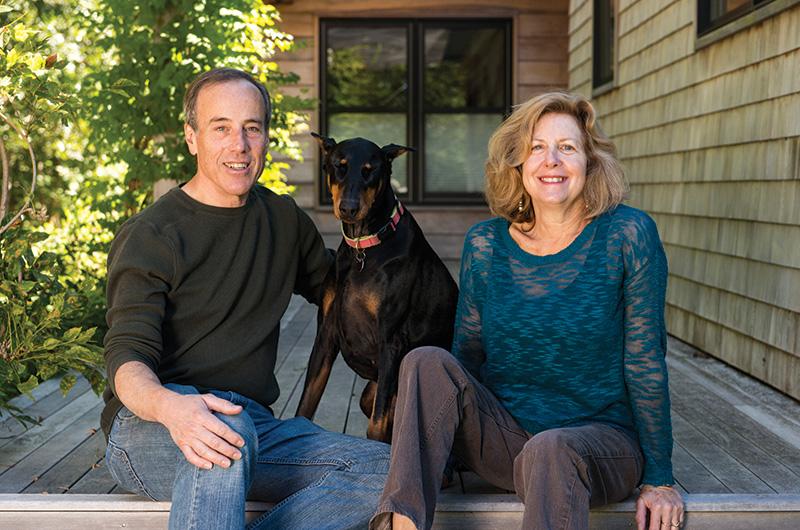 And, it would seem, the Millers' gamble paid off. Carpenters & Company expanded the approximately 384-square-foot box to 3,000 square feet of living space. Lauren gushes over the finished product. "It's just been wonderful," she says. "It's both relaxing and exciting. Every time we walk in, we love it all over again."
Seaview, the expertly decorated and furnished Aquinnah home of Jon and Jill Posner, is a result of sourcing online and in thrift shops, antique shops, and classified ads both on-Island and off. They explored sales at Lowe's and Home Depot. They combed salvage stores. "We were like the Beverly Hillbillies getting on the ferry," recalls Jill. "There was stuff hanging all over our car." But their biggest "find" was Yankee Barn Homes, which provided the post-and-beam shell for the new structure.
The Posners, who are real estate brokers in Pound Ridge, New York, purchased the old property for $350,000 in 1987. "It was in really deplorable condition," John recalls. "We put probably $25,000 into it. We used it ourselves maybe one or two weeks a year and rented it the rest of the time. That's the only way we could afford it."
Eventually, issues arose that were more than cosmetic. "Because it was a one-season house with no insulation and on concrete piers, the moisture and mildew problem just rotted the house away," Jon says. Besides having extensive repairs to finance, they wanted to expand the use of the house to accommodate at least three seasons.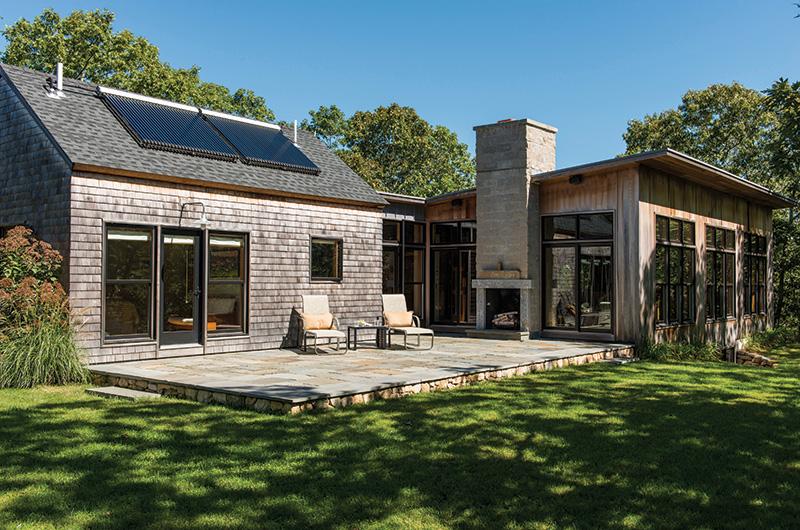 It didn't take long to realize that such an upgrade would cost as much as scrapping the old structure and beginning anew. Because the water, septic, and electrical remained from the former dwelling, there wouldn't be the same expense as bringing them to a virgin lot – although the systems would all have to be brought up to code. They brought in a builder who predicted he could complete the job for approximately $200 per square foot, but once the preliminary plans were drawn up, the price was closer to $450. "I said, 'What happened to the $200?'" Jon recalls with a laugh. "He said, 'Well . . . '"
After paying the builder for the work he had completed, the Posners rethought their strategy. Jon remembered that Yankee Barn Homes had built a couple of houses in Pound Ridge. "They were attractive and interesting and not just boxes," he says.
Armed with a sketch of the old house and the new plans from the builder, the couple trekked up north to consult with Andrew Button, president of Yankee Barn Homes, in Grantham, New Hampshire. The fee for developing the new architectural plans was $2,500, which would be waived if they went ahead with construction. It turned out to be an easy decision: with cost-cutting suggestions from Button, they were able to increase the size of their project without further expense. "With our prefab shell packages, built here in New Hampshire, it's a very economical way to build," Button explains.
The old structure was torn down in late September 2010, and Yankee Barn Homes provided the shell for the new house. This consisted of posts and beams for the frame, pre-assembled exterior walls (including windows, doors, and insulation), exterior siding and trim, subfloors, roof panels, stairs, and foundation plans. They also sent a supervisor to oversee the construction by an Island builder, who installed the flooring, interior walls, and shingles.
The shell went from delivery to weather-tight in three weeks. The Island builder worked through the winter on the interior and the Posners were able to move in to the new structure in June 2011. "We didn't miss a season," boasts Jill.
Now, huge windows allow light to pour in. The extensive use of blue and white makes for an easy transition to the ocean view outside. Recycled furnishings give the place a relaxed, lived-in feel.
According to the Posners, instead of being stressful, the process was fun, easy, and interesting. All the better, then, that it also saved them a bundle.