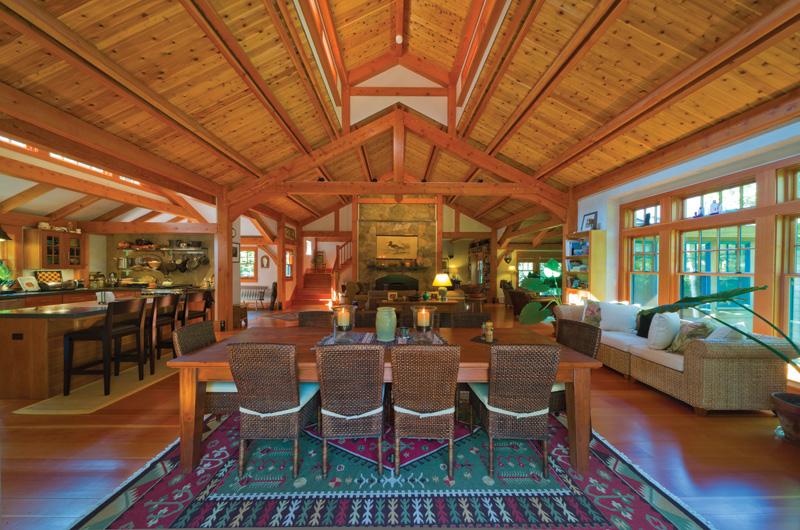 In the middle of an Island renowned for its long, sandy beaches and ocean views, one house takes full advantage of its serene woodland setting in West Tisbury. The soaring ceilings, fieldstone fireplace, vast expanses of wood, and hand-dyed concrete surfaces evoke a handsome mountain lodge. An abundance of windows ushers in light, along with the quiet natural beauty of the surrounding landscape.
Jim LeRoux, a custom builder and major-domo of the construction firm Tiasquam Enterprises, built the house on spec, next door to his family's former residence. He describes the latter, a compound, with a shake of his white-thatched head. "It had a house, studio, guest house, and pool. The maintenance was tremendous. We built this one, and put both on the market. I was recovering from surgery and my wife [Wendy Whipple] came to me and said, 'We sold the house.' I said, 'Which house?'" To his relief, it was the compound that sold. They moved into the new house between Thanksgiving and Christmas of 2009. "It's an extraordinary space," Jim says.
The result of that cosmic flip of the coin is justifiably celebrated. Designed by Joe Dick of Joseph W. Dick Architecture, built by Jim's company, and decorated by Wendy, the approximately 4,200-square-foot, three-level structure is a well-balanced collaboration of light, texture, and color – impressive inside and out. Clad in cedar clapboard to balance its height, with teal-colored exterior trim and lattice grids to add a bit of punch, it nestles nicely into the surrounding woods.
The goal, as Joe Dick recalls, was to honor the location. "Sometimes we [the architectural firm] do cedar shingles and white trim. That's okay on dunes, but not in the woods. Everything about the house signifies 'lodge' as opposed to 'beach house.' There's a strong log cabin influence."
Wavy stone walls, natural landscaping, and a barn-type door separating the dining room from an exterior deck lead one to concur with Jim LeRoux in his boast: "You could take a house like this and pick it up and move it to Colorado or New Hampshire." As if to punctuate that concept, boulders that were uncovered during excavation are now incorporated into the rear landscaping – including a naturally rectangular one Jim calls the "bread loaf."
Setting the theme
The lodge theme is particularly accomplished in the architecture and décor of the main floor interior. The fir post-and-beam construction allows for a vaulted ceiling in the space that encompasses the foyer, great room, dining room, and kitchen. A monitor dormer with clerestory windows sits high above the great room, allowing natural light to flood into the central s paces that are far from windows. More small windows – square, triangular, and oblong – are positioned high along the exterior walls.
A family room off the great room area has views on three sides through floor-to-ceiling windows, giving the space an almost screened-porch feeling. A small, exposed home office with custom bookcases separates a master bedroom suite from the open space of the great room. The bedroom is simply furnished, allowing the view of the woods to provide a focal point through more floor-to-ceiling windows.
What keeps the massive main-floor space from feeling overwhelming is Wendy's deft touch with the décor. "There is nothing I love more than texture and color," says the longtime associate at Bramhall & Dunn in Vineyard Haven and Edgartown and part-time real estate stager. Through the skillful placement of large pieces – including a custom dining room table she assigned Jim's crew to create – she is able to fill in and delineate rooms where there are no walls. Wendy recalls when the house was on the market. "It was big. It was big and hollow and empty. As soon as we put some furniture in it, it warmed right up."
The colors Wendy chose are mostly subdued with a few flashes of brighter hues, allowing texture to take the starring role. A Native American–patterned rug in muted red, green, and ochre defines the dining room space. Hints of those colors show up in small accessories elsewhere in the scheme. An ochre and green urn and a pair of deep red candles grace the fireplace mantel. Soft green vases and bowls, accented with one muted yellow vase, sit atop a kitchen cabinet. Furniture is upholstered in grays, golds, and browns.
Textures tumble one into another. The dining room chairs sport woven seats and backs. Interior walls are raw plaster, naturally porous and pale gray in color. Straight-grained fir plank floors dominate, glowing a soft golden red. Cherry kitchen cabinets are broken up with glass inserts, and tiny porcelain tiles cover the wall behind the stove, bouncing light – natural during the day and lamplight at night – throughout the area. Wendy's choices of woven rugs and plump furniture complement the architecture, their neutral colors and fuzzy textures balancing the drama of the golden fir floors, cedar tongue-and-groove ceiling boards, and cherry cabinetry.
In less capable hands, the whole play of textures and colors could over-dazzle, but Wendy has provided just the right degree of interest. The result is livable, comfortable, and never boring.
The collaboration
The house, in all its grandeur, was the result of a casual conversation. "Jim owned the land for a long time," Joe Dick remembers. "We certainly worked together for a long time, but obviously we always had a mutual client that we were designing and building for. We were talking about how much we enjoyed collaborating and wouldn't it be fun to do a house together."
"He wanted something that looked like a big barn....Also what he really wanted to do," Joe continues, "was to showcase his firm's work and the talents that all of his guys have. He wanted to make the house a showpiece."
The two companies – Joseph W. Dick Architecture and Tiasquam Enterprises – had been working together since the nineties. Joe's firm, based in Yarmouth Port, has been in business for twenty-two years. Together with his partner, Michele Maykel, Joe designs new houses, additions, restorations, renovations, and interiors.
Jim's company has been building homes and commercial structures on the Island since 1988. Besides working with architects on construction projects, Jim and his crew manage and caretake properties, create custom cabinetry and millwork, landscape, and fabricate poured-concrete architectural fixtures. (Jim and Wendy's twenty-two-year-old son, Sloane, who lives in the home's lower level, worked alongside his father in the building of the house.)
Although their work is not exclusive – Joe works with other builders and Jim builds for other architects – their longtime and frequent partnerings led to an intrinsic understanding between the two men. "We can speak in shorthand," Joe explains. "Jim understands me. Jim's men understand me. We're not rewriting the book every time."
Wendy Whipple was a part of the team from the very beginning. "She was with us when we walked the land and sited the house," Joe recollects. "She came back into the plan at the point when the dusty dirty shell became a house."
Wendy herself is modest about her part in the alliance. "In my mind, there are many ways that you can do something and they're all right. So I wasn't going to argue about where to put a light switch or where we're going to put a plug. Joe and Jim know that part of the business. I would come over and we'd discuss the placement of windows or major things like that. We both had a sense of the placement of the house – as did Joe. There were certain things that in the beginning we all three agreed upon, and then I stepped back for the structure of it. I trusted them to make those kinds of choices. I stepped in once the walls were up."
According to Jim, besides taking on the entire interior decorating project, Wendy designed the layout of the kitchen. "Wendy is a good cook, so the kitchen is important to her. It was exciting to see her thoughts merge into reality."
There is one aspect of the house that was not a team effort among all three. Upon moving into the house, Jim and Wendy installed custom fir bookcases around two banks of windows, one in the great room and another in the home office. Joe Dick approved of their idea. "The architecture of this space is really strong," he says, "and these bookshelves are made of material that comes from the space. They're done in such a way that they simply frame the windows. It was a perfectly good job they did.
"It's the occupants that give a house life," he adds. "If you're too much of a purist, you live in – what? – a museum?"
The team that built the house:
Joseph W. Dick Architecture, Yarmouth Port
Tiasquam Enterprises, Edgartown
David Brodsky (carpentry and concrete work), West Tisbury
Earthscape Design & Build Landscape Construction, Vineyard Haven
Green Mountain Timber Frames, Reading, Pennsylvania
Nelson Mechanical Design, Vineyard Haven
David J. Schwab Electric, Vineyard Haven