"What's the point of being selfish with your skills?" Jenny Devivo remarked while maneuvering through the West Tisbury School kitchen. "The joy of knowing that you made somebody else happy through food, or through a conversation about food, is worth a million, trillion dollars."
Jovial and precise in her delivery, Devivo seems unlikely to be accused of secrecy. In fact, the executive chef and cafeteria director of the Up Island Regional School District becomes increasingly animated when discussing cuisine, as well as the ingredients that go into her meals. As she preps for the following day's lunch menu – barbecue sandwiches courtesy of a donation of chickens from Slough Farm in Katama – Devivo is transparent about her culinary philosophy.
"Really honor what it is. Don't color it," she stated. "I don't need to dumb it down or rich it up. Be mindful and respectful of every single ingredient."
Devivo applies the same approach to her professional endeavors. Since her hiring at the West Tisbury School in 2010, she has established a food program that champions local and regional ingredients and has coordinated regular opportunities for food rescue and recovery. While gleaning edible ingredients from local farms and grocery stores – diverting them from the landfill and thus reducing waste – Devivo also educates students about what goes on their plates. Smoke and mirrors were not responsible for converting her elementary students into grilled oyster fans, nor did they aid Devivo in securing a place in the national food competition television show The Great Food Truck Race in 2020. These triumphs, she explains, had more to do with "relationship building that [she] managed to connect and foster."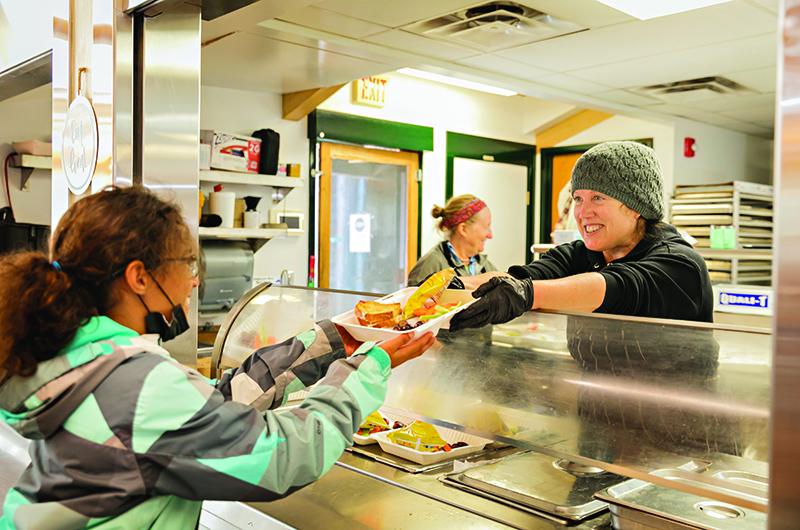 Those relationships include collaborations with Island Grown Initiative and its subsidiary Island Grown Schools, allowing students to observe and partake in the process of growing their food via field trips to gardens and highlighting harvests of the month. She also has a standing relationship with fish wholesaler Red's Best, which operates out of Menemsha, to deliver a flaky white fish each week for "Fish Friday." The type of fish – typically something high in supply and low in demand that day – is not known until the day before or day of consumption.
"People know that I can be flexible with my meal planning," she said, "and, you know, adapt in an instant to bring any kind of ingredient into the school kitchen. I'd say that is my primary success."
Before drawing connections through food, Devivo pursued a different kind of uniting force: music. Originally from Nanuet, New York, she lived in the United Kingdom throughout her twenties as an electronic and house music recording artist. Eventually getting the "bug to just come home," Devivo came to the Island in 1998 and joined her parents, who had moved to Martha's Vineyard in the late 1980s. Though she continued to focus on her music, her previous culinary experience at a Sri Lankan restaurant in Scotland prompted her to seek catering opportunities on the Island.
"I got to meet farmers, fishermen, and food purveyors," she raved. "And got to really sink into that farm-to-table, sea-to-table community that we have here that's so beautiful."
The seasonal nature of the job was not ideal, however, as she "needed to be busy." She was intrigued, therefore, when a friend reached out in 2009 regarding a unique opportunity. In those days, most Island children were eating typical cafeteria fare. A for-profit company prepared meals at the high school and bussed the meals over to the West Tisbury and Chilmark schools, which did not make their own food on site. They were "looking for someone to basically stand there and serve the meals," Devivo recalled. "She knew that I had a passion for teaching the youth about how to eat healthy, because it's just so accessible here."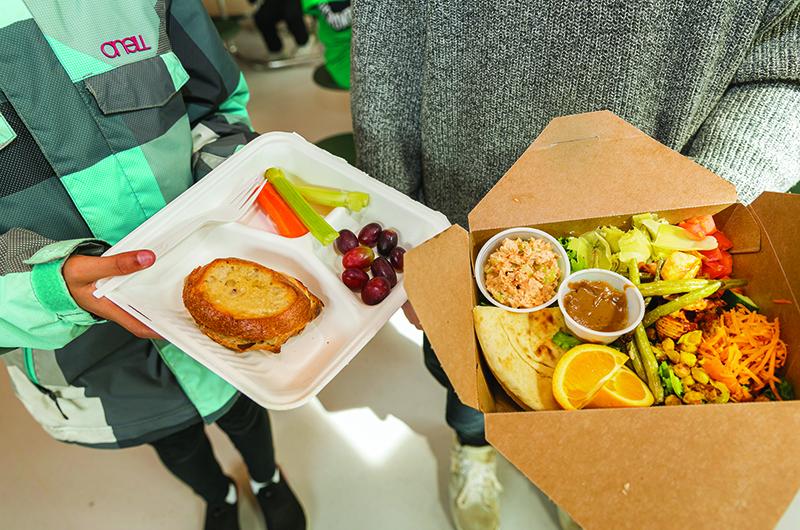 She describes her work at the school as "undercover" for the first few years, "gathering data to bring to the school committee." The objective was to devise a system that sourced more local ingredients and implemented cooking from scratch. In 2012 the for-profit company was fired, Devivo was hired, and the school built a new kitchen.
"Serendipitously, I just ebbed and flowed into the realm of teaching kids how to eat," she noted. "I inherently knew, instinctively, that this was the way for the future for the kids."
Since its implementation, the Up Island Regional School lunch program has grown tremendously. Eliminating what she dubbed the "mall mentality" – the familiar food court model in which students pick from a large array of
generally unhealthy options – Devivo provides the option of a hot lunch or a salad bar meal. The selections are nutrient-dense, always accompanied by side vegetables and fruits, and structured so that the kids know roughly the theme of what they'll receive each day. Crowd favorites include scratch-made orange chicken, butternut squash fettuccine Alfredo, and Mediterranean pollock sandwiches.
Since launching the program, Devivo has partnered with Morning Glory Farm, Thimble Farm, and The GOOD Farm, to name a few, and made healthy eating accessible. Gleaning also has become a valuable tool for the program.
Each of these structures are intended as remedies for the disconnect between young people in the United States and their sources of food – a gap with which Devivo is familiar.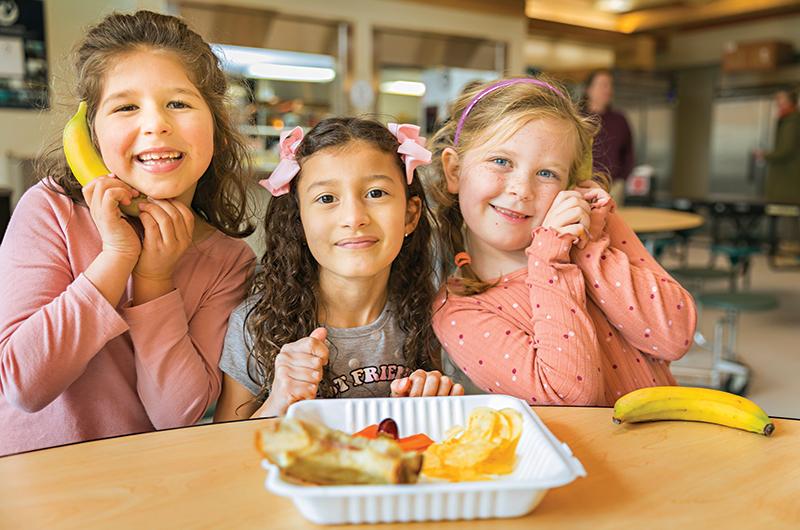 "I was a latchkey kid," Devivo proclaimed. "I basically opened boxes of mac and cheese, you know, threw a hot dog under the grill, and that was really about it."
It was not until living in the U.K., she explained, that she "was suddenly thrust into this incredible world where you had a tiny little refrigerator and you shopped for what you needed, and you used what you got."
Another takeaway from her time abroad was the value and privilege of food. "I guess that creativity runs through my veins," she said. "I was like, 'Alright,
I need to be creative, I don't want to waste, what can I make with this food?'
I brought that sensibility back here."
Today, students at her schools are often exposed to eclectic meals and new ingredients, such as black rice salad with chili crisp roasted cabbage. To ease students into sampling new dishes, she frequently invites those who grow, catch, and harvest to dine with the school community and educate them about the menu. It is not uncommon, for instance, for a fisherman from Red's Best to enlighten students on the catch of the day. When it comes to food, Devivo said, narrative is essential.
"In order for [the students] to really understand where their food comes from, they needed a somebody as well. It's just like learning math, or learning English, or learning science. Once they heard the story, [they] maybe could put a face or a boat or maybe envision a potato being dug out of the garden."
Not even pandemic lockdowns and school closures in spring 2020 could hinder Devivo's determination to serve food and share stories of its origins. Swapping lunch trays for to-go boxes, she and her team continued to feed the community, claiming that it was not the supply chain issues or extra labor that made the process difficult.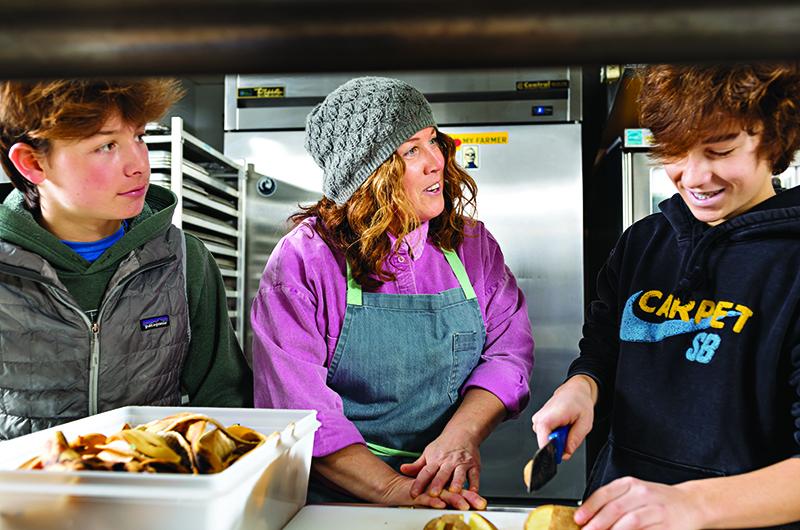 "Getting the food here has never been the problem. It might look a little bit different, but that's not the problem," she said. "The only curveball was not seeing the kids. So we'd write notes on the boxes, we'd include little stories inside their bags so they knew what they were getting."
In 2019, before the pandemic arrived, Devivo's achievements and initiatives caught the attention of the Food Network. She was scouted for Season 12 of The Great Food Truck Race, which ran the following year.
"The beauty of what I do is that it was unique," she explained. "I think that was the reason why they chose me and my team, because this was a field that hadn't been represented to such a degree."
Devivo recruited her assistant, Nisa Webster, and Webster's brother, Eli Carroll, for her team as they "were all connected to the Vineyard in some culinary aspect." The trio, aptly named the Lunch Ladies, headed to the West Coast to compete. For two months they whipped up meals in a mobile kitchen for real customers with the objective of outselling the six other teams, many of whom underestimated them at first.
"I noticed immediately when we got there that they literally did not even think that they could be schooled by some lunch ladies," she said with a laugh. "We let them know quite quickly, the other contestants, that we were going to give them a run for their money." They ended up advancing to the final round.
One secret to the Lunch Ladies' many victories throughout the show, according to Devivo, was their experience with working in confined spaces under tight deadlines. Another key factor was likely her knack for engaging with new people, a skill she exercised throughout the competition. While her assistants prepped in the kitchen, she was "hustling and grabbing people to the truck and telling [her] story" in order to introduce them to her food.
Two years after her season of The Great Food Truck Race aired, Devivo said she still gets "emails from people across the planet asking me to help them think outside the lunchbox and change the way we feed the kids. It allowed us to really connect with teachers and kids and, like, the human race."
As they progressed through the competition, the Lunch Ladies developed a friendship with host Tyler Florence and sought his advice. Florence helped identify "where the strengths would lie in propelling [herself] in the future," she said, hinting that she may not be finished with the national stage. "Traveling and teaching" are priorities, she said, as her work can be "translated across the country" and prompt others to
seek creative ways to nourish their own communities.
Today, those priorities are on display in the hours Devivo devotes to teaching – that is, after preparing hundreds of meals for hungry students. She regularly hosts virtual webinars, conferences, demos, and live streams for organizations such as Slow Food International, and guides schools across the globe on how to implement seafood into
their meal programs.
"That's been the biggest crutch for people, I've been finding," she observed. "I've been able to really help them navigate the waters of implementing seafood, however big or small. They can't quite believe that I can get kids to eat fish! Some of these people are now serving fish like me, so that's fantastic."
Closer to home, she hosts bi-weekly culinary classes for both kids and adults at the FARM Institute in Edgartown, and also recently introduced a monthly column in this magazine's Cook the Vineyard email newsletter with Susie Middleton. Her segment, "Ask Jenny," is an opportunity for people to inquire about recipes, kitchen hacks, sustainable cooking, or "you know, how to dandy up a box of mac and cheese."
The goal of all this extra effort, she said, is to explore new territory and share her discoveries with other schools hoping to improve their meal programs, parents seeking an alternative to takeout, and essentially anyone who sets foot in the kitchen. She attributes her success to a predilection for "connecting the dots." However, it would seem that her real talent lies in forging connections to sustainable food and captivating stories –
that is, finding dots in the first place.
"Stay tuned," she said, "because this isn't the last you've seen of this lunch lady."