A puff pastry tart is quick and easy to make and eminently versatile. In fact this recipe is a summer variation on my Asparagus and Spring Onion Puff Pastry Tart.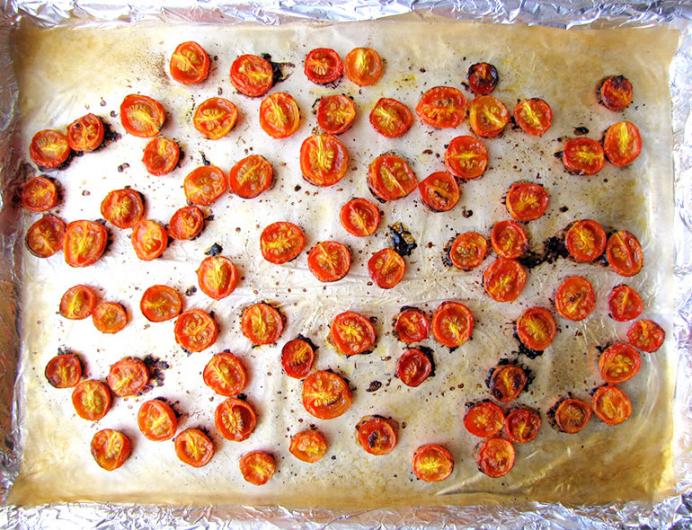 This one uses roasted cherry tomatoes or roasted small plum tomatoes in place of the sauteed asparagus and spring onions.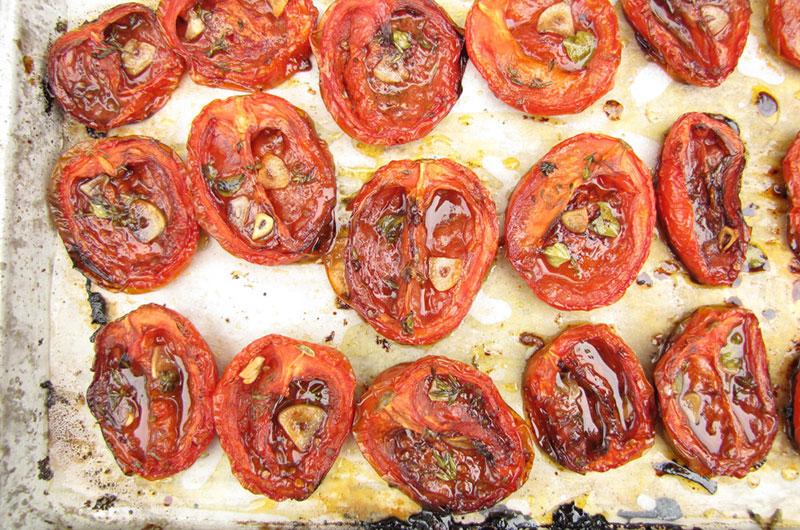 You could add a bit of crumbled bacon if you like. The ricotta-parmesan-herb topping needs no changing!
Remember to thaw your frozen puff pastry in the fridge the night before you want to bake.
Makes one tart or 12 pieces
1 sheet frozen puff pastry (about 8½ ounces), thawed overnight in the refrigerator
1 recipe Roasted Cherry or Grape Tomatoes or about ½ recipe Quick-Roasted Plum Tomatoes (or a combination of both – you may not use all, but have plenty on hand)
Kosher salt
1 large egg
1 tablespoon heavy cream
1 cup ricotta (not skim)
½ cup plus 2 to 3 tablespoons coarsely grated Parmigiano (preferably chopped in a small food processor; you will need about 3 ounces to start with)
2 to 3 teaspoons finely chopped parsley and chives or 1 teaspoon thyme leaves, more whole leaves for garnish
1/2 teaspoon (packed) freshly grated lemon zest
Fresh pepper
All-purpose flour for dusting
1. Heat the oven to 400 degrees. Cover a large, heavy-duty rimmed baking sheet with a piece of parchment paper. Remove the puff pastry from the refrigerator and let it come to room temperature while you prepare the toppings.
2. In a medium mixing bowl, whisk together the egg and cream. Add the ricotta, the ½ cup Parmigiano, 2/3 of the herbs, lemon zest, ½ teaspoon kosher salt, and several grinds of pepper. Set aside.
3. Dust a rolling surface with all-purpose flour. Roll out the puff pastry into a rectangle about 14 inches long and 10 or 11 inches wide. Transfer to the baking sheet.
4. Use a sharp knife and a ruler to score (don't cut through) a border all the way around the pastry, about ¾ to 1 inch in from the edge. Use a fork to prick holes, spaced about a half-inch apart, all over the pastry inside the border.
5. Use a silicone spatula to spread the ricotta mixture over the surface of the dough. Arrange as many of the roasted tomatoes as you like across the ricotta topping, leaving a little space in between. Scatter the remaining chopped herbs and remaining Parmigiano over the top.
6. Bake, rotating the sheet pan back to front once during cooking, until the pastry is puffed and golden, about 25 minutes.
7. Let cool for 10 to 15 minutes, garnish with herb leaves, and cut into slices to serve warm.