The landscapes and seascapes of Martha's Vineyard have always been a reliable source of inspiration for artists. It's no different for Rachael Cassiani, who was born and raised on the Island and continues to call it home. She walks the beaches and trails she has known her whole life, snapping pictures of different scenes, all the while envisioning her next painting. "I see landscapes when I go out, and I can literally see what my next painting is going to be all blocked out in my head," she explains.
"Blocked out" is a good way to describe her work. Cassiani's painting style is geometric and bold. Her landscapes are stripped down and devoid of details, with solid areas of color used to represent the sky, land, and more often than not, the ocean. "I just love simplicity and minimalism," she says.
That simplicity extends to her studio, a converted room in her Vineyard Haven home. The space is small, with a single window to let in the natural light. A paint-splattered desk houses a collection of brushes and tiny works in progress; underneath, tubes and tubes of water-soluble oil paints sit in boxes. The walls are white, though her bright paintings, which hang from and lean against nearly every inch of wall space, add a kaleidoscope of color.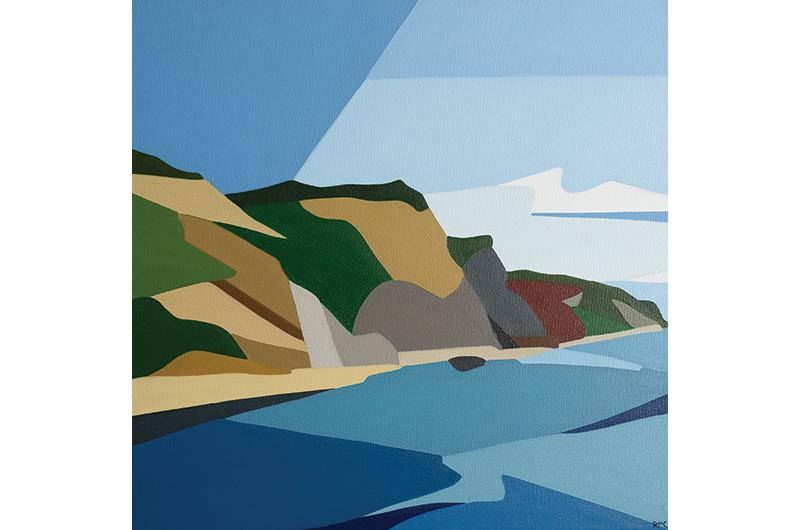 At the age of twenty-seven, Cassiani's full-time job is painting. But if you had asked her as a child what she wanted to be when she grew up, an artist wouldn't have been the answer.
"I took, like, one drawing class in high school," she says with an easy laugh as she sits on a stool in her home studio, a cup of steaming-hot tea in her hands. When she was eighteen, an aunt who was an artist died and left all of her art supplies to her. For fun, Cassiani began to paint.
"It was just kind of a hobby," she says of the craft that she has slowly and largely taught herself. Her first paintings were of realistic cityscapes; eventually, she transitioned to landscapes of the Vineyard. There is no shortage of realistic landscape painters on the Island, though.
"I knew I wanted to find my own style," she says, "and I found it."
That "it" might be described as abstract meets cubism. Though painted, there is an element of collage to the geometric compositions. However one might describe Cassiani's style, it has garnered her more than 60,000 followers on her Instagram account, where she posts several paintings a week.
She was contacted by the Octavia Art Gallery in New Orleans on behalf of Memorial Sloan Kettering Cancer Centers, which commissioned her to do two paintings, and she is represented by the Field Gallery in West Tisbury.
With names like Cedar Shore, Lucy Lover, and In Moshup Colors, it's clear that up-Island is a favored haunt when she is looking for inspiration. The structure of those particular landscapes, she explains, make for easier abstract adaptations.
Whether painted on small or large, rectangular, circular, triangular, or hexagonal canvases, the process for each painting is relatively the same. "I'm looking for where the most dominant hues are in the landscape," she explains, tracing her hand across a big Lucy Vincent Beach piece that sits to her right. "I exaggerate the colors of the landscape. I go brighter and bolder."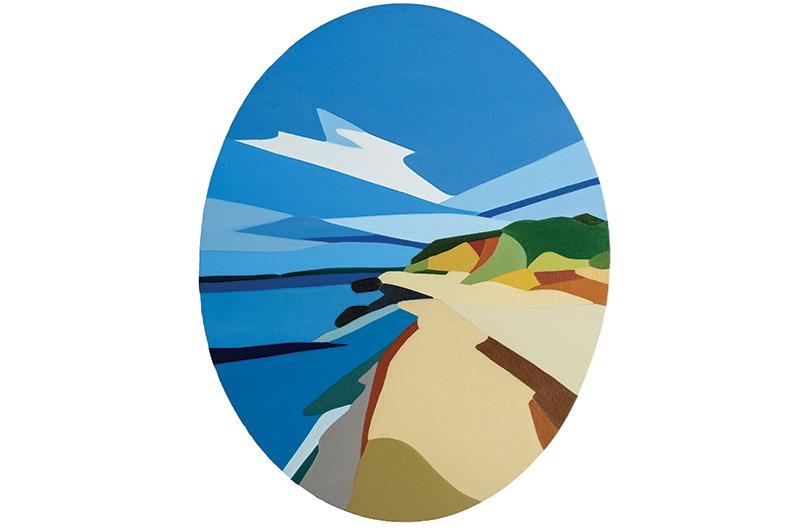 But before she paints, she sketches. Using photos as a reference, Cassiani puts pencil to canvas to map out where each of the elements will go. Then she assigns color to the blocks. "I'll usually sketch it out in one day," she says. When she is ready to paint, she mixes a bold color palette and applies the paint from the top of the canvas to the bottom using a wet-on-wet process. "I won't let this color dry...if I'm going to switch over to [a different] color because...I don't want any bumps."
This technique, which artists have been using for centuries, gives her paintings a clean and refined look. "Some people say there are no brush strokes. I'll use your standard, rough oil paintbrushes to really get the paint into the canvas and lay down that layer of the first color," she says. Then, using new synthetic brushes, she slowly and steadily brushes across each color to smooth the surface.
She sets her paintings to dry – not for days but weeks and ideally at least a month – before applying a coat of varnish. "It balances the colors and protects it," Cassiani explains. "It's the most stressful part," she says, because if
dirt, dust, or other particles get into the varnish, it will ruin it. "But it really finishes the piece."
When Cassiani is looking for a break from her typical style, she creates smaller, more figurative scenes, mostly from memory, on wood panels. "It's a good way for me, after being so structured with the cubism, to switch over and just be really loose and expressive," she says.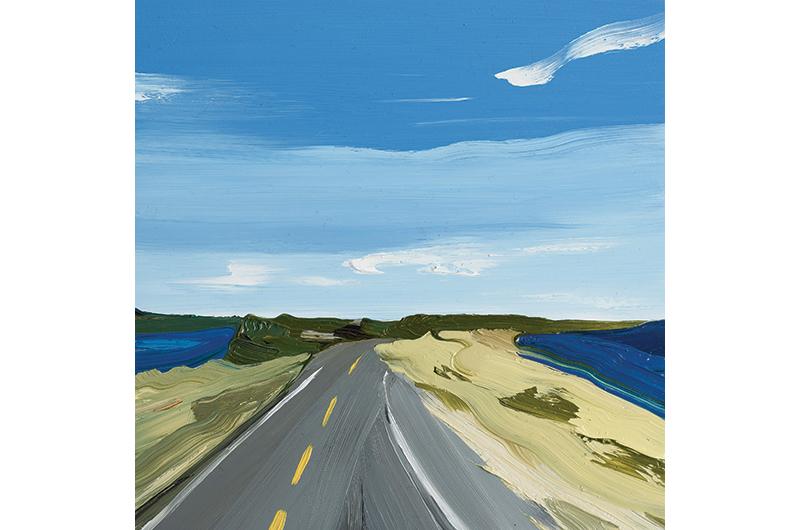 For these she forgoes the wet-on-wet process, allowing the paint to dry in a way that gives the finished product a more textured look.
Both styles of paintings may make their way to the Field Gallery for what will be her second opening at the gallery on June 28. Her up-Island beach scenes will be a part of the show, of course. "I'm very drawn to the water," she says, staring at the various seascapes around her.
New this summer is a series she is working on of another tried-and-true Island subject: sunsets. "That's a new kind of collection that I've been trying to build on," she says, indicating some smaller works in her studio that could potentially be scaled up onto larger canvases.
Her plan for the sunsets is to start small, and if they sell, go big.
"They are harder for me to do, sunsets." she says. "The colors blend so much."
But with the convenience of a home studio, Cassiani can work out the kinks of transforming fluid sunset photographs into geometric paintings whenever inspiration strikes.
"I pretty much paint every single day," she says. "It's therapeutic."
Rachael Cassiani is represented on the Island by the Field Gallery in West Tisbury, where an opening reception for her 2020 show will take place on Sunday, June 28.