Peter Rosbeck Jr. had built more than a few houses before he built one with his own family in mind. He grew up summering on the Island where his father, Peter Rosbeck Sr., who is now retired from the family business, was a major developer in the 1970s and '80s. His Rosbeck Realty Corporation was responsible for more than ten large Vineyard subdivisions, including Bold Meadow, Majors Cove, and Island Grove in Edgartown; Meadowview Farms, Bayes Hill, and Hidden Cove in Oak Bluffs; and Deep Bottom Pond and South Vine in West Tisbury.
"Young Pete followed him from the time he was little," his mother, Karen, told this magazine in 2007. "If his father was going to work, he wanted to go with him. He would sit for hours in the truck while [Peter Sr.] was talking to people."
After graduating from college in 1991, "young Pete" moved to the Island full time and formally joined the family business. By then, with the era of large subdivisions waning, he concentrated more on building luxury homes for clients and as investment properties. The latter includes a large compound on Sengekontacket Pond in Edgartown and a waterfront home on Hines Point in Vineyard Haven. But those were both completed before he met Caitlin Murphy, which is to say before love, marriage, and two children.
They met on the Island. Caitlin had moved with her parents to the Vineyard from Woburn a month after she graduated high school. "My mom always wanted to live near the ocean," she said, and explained that her stepdad cast a wide net, looking for coastal jobs in Bermuda and South Carolina before accepting something on the Vineyard. Caitlin was waitressing while taking classes for a nursing degree at Cape Cod Community College when, a few years later, she met Rosbeck at Nancy's Restaurant in Oak Bluffs and a whirlwind romance ensued.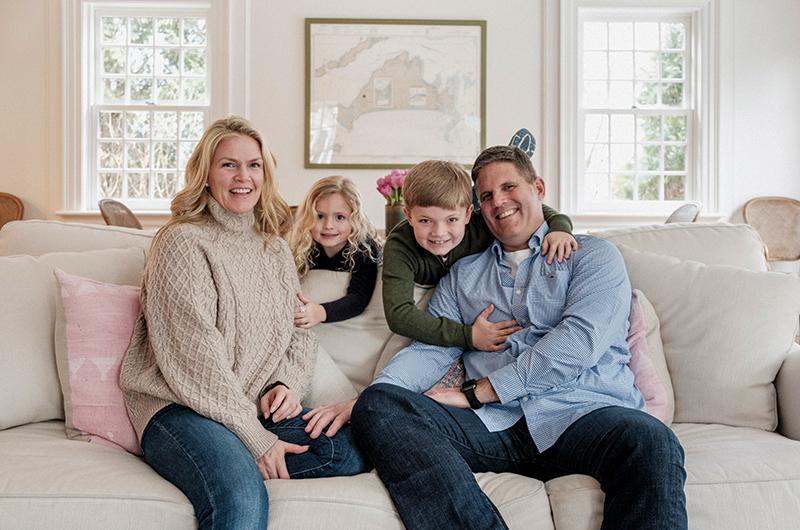 "He knocked my socks off," she said. "He courted me like no other."
With their children approaching school age, Rosbeck began eyeing a lot on School Street in Edgartown with an existing single-story house on it. But before taking the leap, he would have to justify moving his family away from their waterfront home on Hines Point.
"My family might have thought I was crazy at first," he said with a laugh. "I don't know."
But as nice as Hines Point is, the couple wanted to live in town and let their two children, Peter, seven, and Olive, five, someday ride their bikes to the Edgartown School, which is less than a half-mile away. The space had the potential to check all the boxes for his family's dream home: a downtown compound, connected garage, and pool. "It was definitely purposeful," Caitlin said of the move. "We wanted to be able to walk to town."
What the Hines Point house had in beauty and charm it lacked in convenience and ease. "There was no yard for the kids to play. There were no sidewalks. Walking to town was a hazard," she said. The home they set out to build, therefore, would bear their family's every need in mind.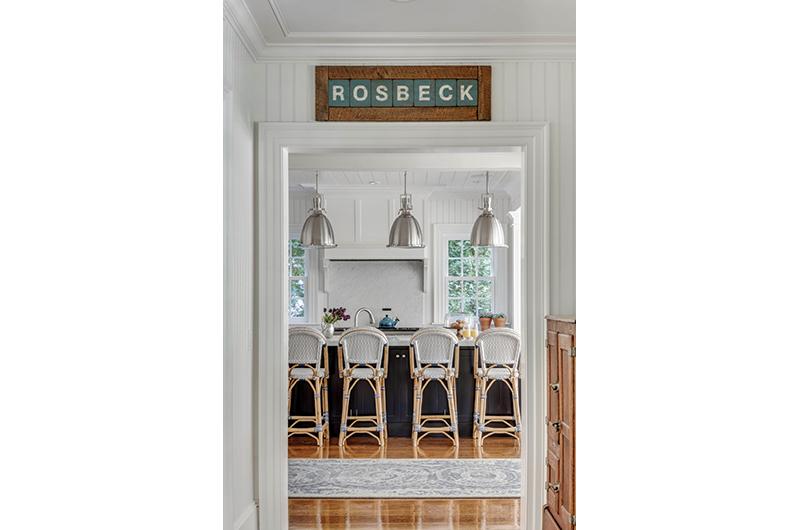 There was no question what architect they would work with. Rosbeck and Patrick Ahearn are two peas in a historically infused pod, having collaborated on more than thirty homes together on the Island. Ahearn says that they agree on every aspect of building and design, from approach to finish. "He's on top of his game," Ahearn said of Rosbeck. "We drink the same Kool-Aid. We have a very good working relationship." When meeting with the couple, Ahearn listened half as though they were regular clients and half as if he were meeting with his trusted collaborator. "I got a wish list from both of them," Ahearn said.
Razing a small house and replacing it with a bigger one is old hat on this Island. But the catch for Rosbeck and Ahearn was that they intended to replace the nondescript house on a relatively small corner lot with a 4,800-square-foot, four-bedroom compound that would look as if it might have been originally built during the heyday of whaling and added to over time. The technique is something of a specialty of Ahearn's, and the plan he created for Rosbeck is reminiscent of an 1820s federal-colonial with an attached livery stable (which is actually the garage) meant to look like it was added to the original structure in the late 1800s.
While the façade and interior details, down to the doorknobs, had to speak to the past, the home also had to work for a modern young family who wanted conveniences like a playroom, mudroom, ample storage, easy indoor/outdoor living, a pool house, and skylights. Caitlin had a list of five things she wanted in the home: plenty of storage space, laundry on the main floor, master and kids' bedrooms on the same floor, a playroom, and a kitchen large enough to work in comfortably and to host big family dinners. Still, she admits to deferring to her husband on a lot of the details, such as flooring and crown molding. "I'm pretty easygoing," she said. "And he has great taste."
Luckily, Rosbeck is comfortable in that role. "I've been doing this for a long time," he said. Over the course of two years he and Ahearn pored over every detail and every finish in search of beauty, utility, and quality. The attention to historical plausibility did not quite extend to the backyard, where in light of having left the waterfront for downtown, Caitlin wanted a pool. She was quickly surprised by how central it became for their family, and the long swimming season it's afforded them.
"The beach is great," she said, "but with little kids…" she trailed off, at a loss to convey the convenience of a backyard (saltwater) swim spot. On long summer evenings the children can swim till bedtime, take a quick outdoor shower, and get straight into PJs. During football season, they can watch the game on the TV in the pool house – from the hot tub.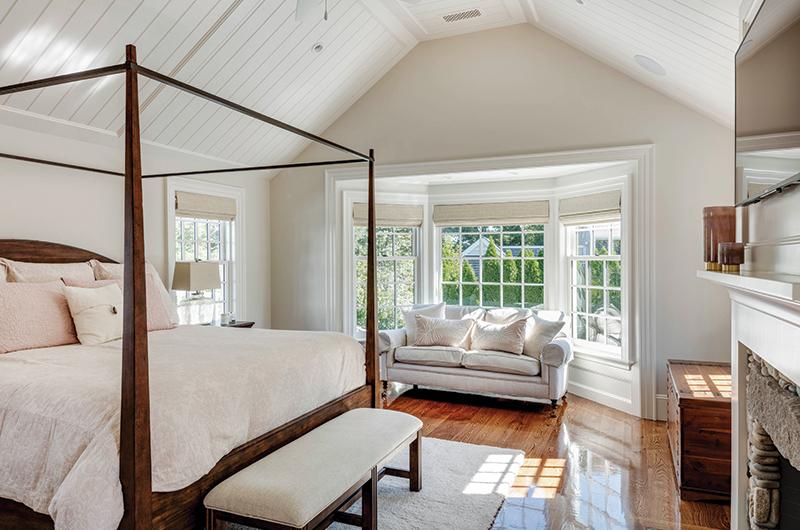 Outdoor dining is seamless under the covered poolside patio, where the Rosbecks do a lot of entertaining. Since moving into the house Caitlin has taken over the extended family's holiday celebrations. "I love to host," she said.
"It's overbuilt for four people," Rosbeck allowed. But their vision for the home was bigger than their immediate family. A long, oversized farmer's table can accommodate a houseful of guests. "We wanted this to be the big, multigenerational gathering home," she said. "And it has been."
When it's just the four of them, they might eat at the four-seat marble breakfast bar in the pristine, mostly white kitchen that was designed with Caitlin's love of cooking in mind. The pantry is open with plenty of storage space, leading to her tucked-away office facing School Street. From her desk there she imagines watching her kids walk home from school someday.
To inhabit a home so specifically curated for your family's every need and whimsy is a uniquely personal way to live, and Caitlin does not take it for granted. "The first time I came home after a weekend away I thought, 'Oh my God, this is the most beautiful house,'" she said. "I appreciate it every single day."