On Martha's Vineyard there are two types of family compounds: one involves acres upon acres of ocean-view property, sprawling homes connected by manicured walkways, usually a tennis court, and definitely a swimming pool (or maybe two).
The other is of the variety that legendary Island musician, stonemason, and fisherman Johnny Hoy built over the course of thirty years, tucked into the woods a short trail's walk from Tisbury Great Pond. There is no pool, no tennis court, and the gardens – though lush and well-tended – are far from manicured.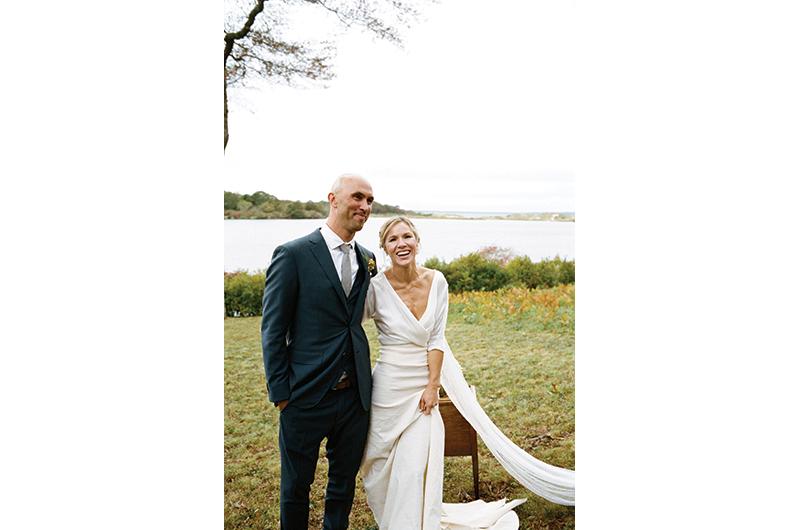 In the mid-1980s, after settling on the Island and marrying fellow musician and future bandmate Barbara Puciul, the Hoys purchased three wooded acres in West Tisbury and set about building a family home. But first, they built the family rental home, another quintessential Vineyard move. The 800-square-foot custom cottage – designed and built by Johnny with guidance from builder Mark Hurwitz and friends Chris Osmers and Dan Sternbach – served as the Hoys' temporary home while they turned their attention to building a bigger residence next door.
The little bungalow out back is where the Hoys' only child, daughter Ruby, was born, where she lived for the first years of her life, and where she returned to live three years ago with her then-boyfriend, now-husband Josh Vag and a doglike cat with piercing blue eyes nicknamed "Mr. Man."
"The house feels big while still being small," Ruby said when we met in the sun-soaked kitchen one Saturday morning last fall. "And it has lots of my dad's touches, which I love." Ruby pointed to the ornate wooden brackets above the kitchen's sliding door. Over the wraparound porch, an adorned pitched roof is visible through cutout windows above the sink.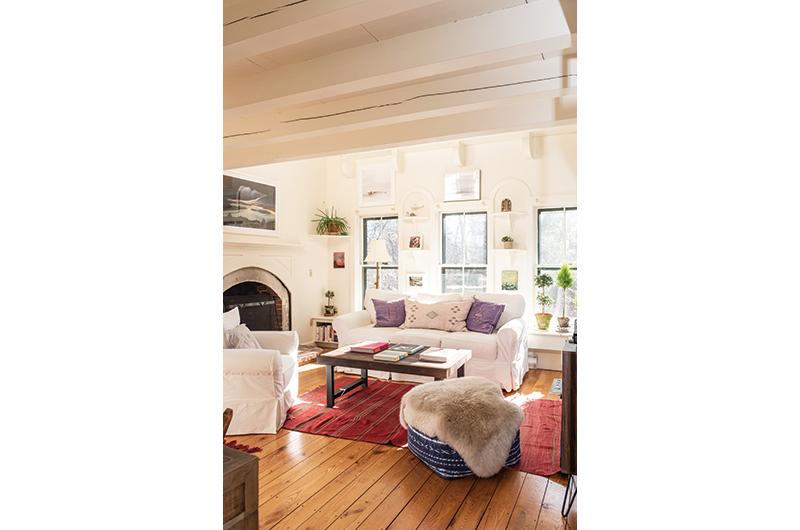 "Mark Hurwitz built that beautiful porch," Johnny, reached by email, remembered. "I drove him crazy designing on the fly. After work doing masonry, I would draw the plan for the next day's work on graph paper at night. He would build it and when I got home from work I'd realize I had made a mistake and I'd dismantle it and redraw it. It drove him out of his mind but it worked out pretty nice in the end."
From the beginning, the idea was to build a cottage that could comfortably house a couple or small family, year-round. "I remember agonizing over the problem of making the 800-square-foot dwelling allowed by the town feel airy and light enough so that we wouldn't go nuts living there," Johnny wrote. "There was no electricity down there in those days so we spent the first few years with propane lights and fridge."
Though the house was designed by Johnny, it was Ruby's mother, Barbara, who has kept it up over the years with help from the handful of Island families who have lived there as year-round renters. (After the Hoys divorced, the compound grew when Johnny purchased an adjacent lot and built another home for himself, accessed from the cottage by a path through the woods.)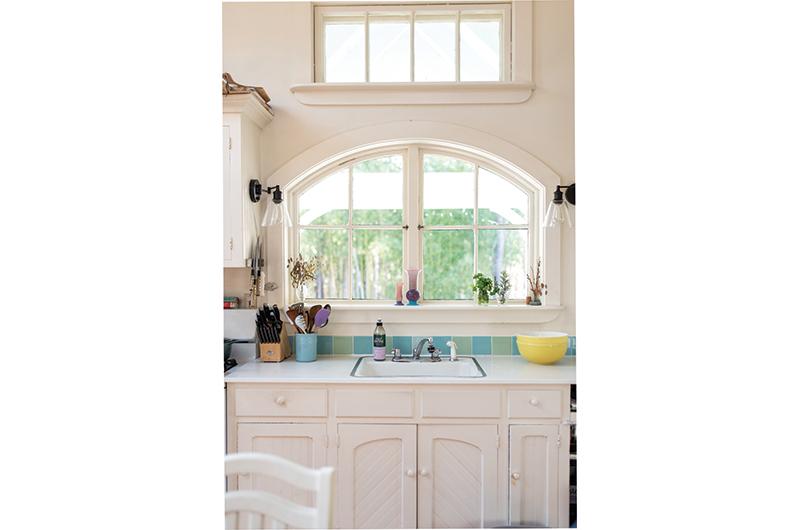 When Ruby was small, Island song leader Roberta Kirn and her husband Nick Azzollini moved into the cottage with the agreement that Roberta would trade childcare for Ruby for partial rent. "I was their practice daughter," Ruby said. The couple went on to have two daughters of their own, and the girls grew up side by side, sharing holiday meals and running back and forth from one house to the other. (When Josh and Ruby were married last October, "surrogate sisters" Teo and Marta Azzollini were bridesmaids, and in their speeches fondly remembered a shared childhood growing up in the Hoys' backyard.)
Though the cottage kitchen is substantially smaller than the one next door, it was here that the families gathered for big meals. "Nick is Italian and an amazing cook," Ruby said. "Roberta had a big table in here and we'd all sit together. It helped that the wood stove is in here too.
"I love the high ceilings and the late-morning light," Ruby, who works with Josh as a landscaper and enjoys photography, added. "Josh and I are both very visual people."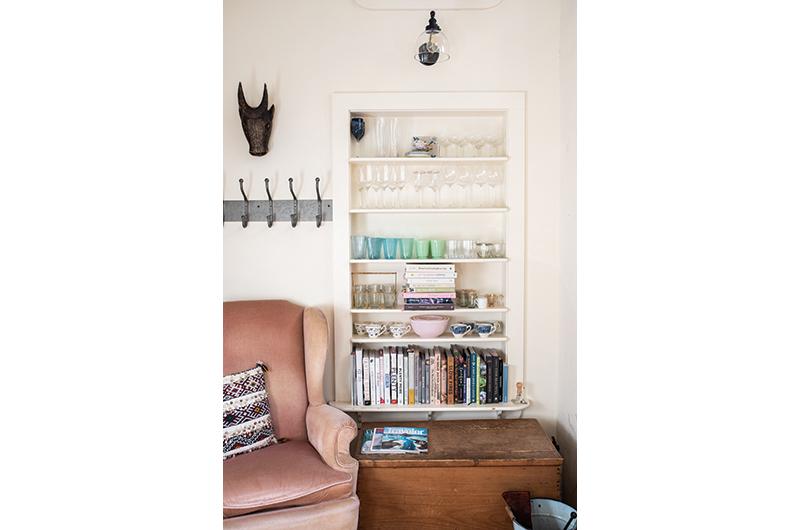 From her favorite spot to sit in at the table she can see up through an arched passageway into the all-white living room, which, like the kitchen, is small and simple. It's brightened by colorful textiles and artwork, most of which Ruby and Josh collected as they traveled together over the years.
The couple had been on one another's radar for a while – Ruby remembers sending Josh a photo she took of him surfing years ago – but it wasn't until a wedding in 2013 that they met officially. "I was working the wedding," she remembered of a summer catering gig, "and Josh wasn't going to go. His mom sent in the RSVP for him." But he did go, and when Ruby was off-duty they spent the rest of the night talking and dancing. After discovering a shared love of travel, they began planning their first trip together.
"Josh was planning on going to New Zealand, and I didn't have anything else going on," Ruby laughed. At this point she'd finished college, where she'd studied environmental science, and was living back on the Island. The couple spent three months driving around the North and South islands in a van. It was the first of many extended trips they would go on to take together. From Morocco to Indonesia, Ireland to South Africa, they spent winters exploring new cultures and collecting favorite pieces for the home they had a hunch they would one day share.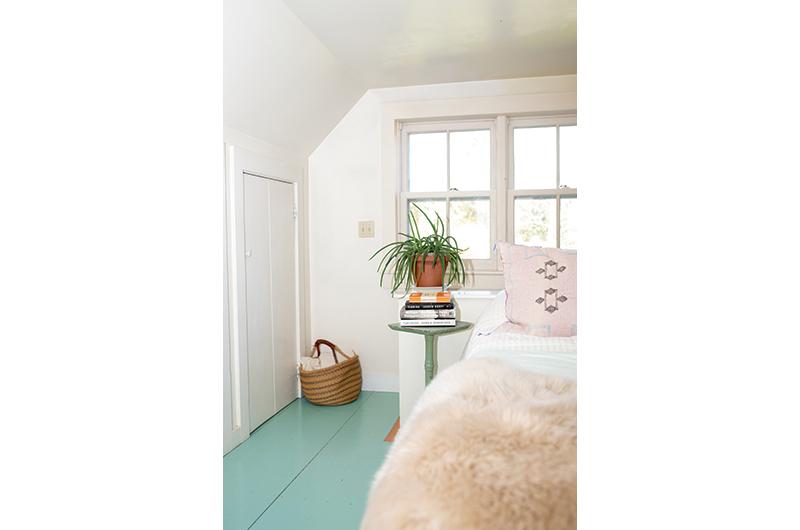 "At the time we were living in an even smaller guest house," Ruby said. "A few years ago, I asked my mom to let me know when the last renters planned to move out. We were ready."
Since then, the couple has done some work on the cottage, most notably renovating the only bathroom, a small but functional space off the kitchen. "There was this horrible linoleum," Ruby remembered. With the help of Barbara, the couple pulled up the flooring, replaced it with white tile, and, following Johnny's "light and airy" mantra for brightening small spaces, painted everything else in the room white too.
For a shock of color, a turquoise staircase leads up to the lofted bedroom, flanked by a railing cut in the shape of rolling waves. The bedroom is just big enough for a bed, and the walls hide sleek built-in closets, as well as, surprisingly, a built-in sink. "We keep meaning to bring our toothbrushes up here," Ruby said.
Before that happens, however, the toothbrushes may end up back in a suitcase bound for Portugal, a favorite destination for the couple. Travel remains an important part of their lives, something Ruby credits in part to her upbringing.
"We were always traveling with the band," she said of time spent in Switzerland and South Africa with her parents. "It was a great way to grow up."
After long stints on the road she remembered being happy to return to her little corner of the Island, the trails, the pond, and the cluster of houses full of family and friends.
"We're so fortunate to be able to live here," Ruby said. "To be able to always come back to this little house."