A generous amount of a creamy tomato sauce, fresh mozzarella, parmigiano, and a bread crumb topping make this baked pasta one everyone will like. I've used roasted eggplant as the main addition here, but a combination of roasted eggplant, peppers, and mushrooms (or your choice of other roasted vegetables) would also be nice, or you could drop the veggies altogethr and go with a sausage variation (see directions at the end of this recipe.) Serve with a green salad.
I learned to make this style of baked pasta - which does not contain a bechamel sauce or other thickeners, as macaroni and cheese does - at Al Forno restaurant. We kept the ovens at very high temperatures and used shallow dishes for the baked pasta so that the sauce bubbled up and reduced quickly, mingling with the cheese and other ingredients to give a silky texture to the pasta. So choose a shallow 2-quart gratin or baking dish for this (not a deeper dish as you might for macaroni) and follow the 425 degree temperature.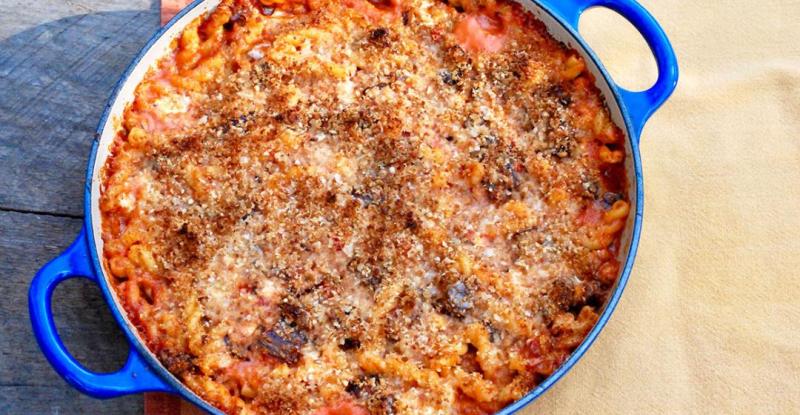 Serves 4
2 tablespoons plus 2 teaspoons extra-virgin olive oil, more for pan
1 medium eggplant (12-14 ounces), cut into medium dice
Kosher salt
¾ cup fresh breadcrumbs
¾ cup coarsely grated Parmigiano Regianno
1 ½ cups canned crushed tomatoes
3/4 cup heavy cream
1 teaspoon balsamic vinegar
½ pound (8 ounces) medium shaped pasta of your choice (I like gemelli and cascatelli)
½ pound (8 ounces) diced fresh mozzarella
1 1/2 tablespoons combination chopped fresh mint and basil


1. Preheat the oven to 425 degrees F. Rub a 2-quart shallow gratin or other similar-sized baking dish with olive oil. Line a heavy-duty rimmed baking sheet with parchment paper.
2. Toss the diced eggplant with 2 tablespoons olive oil and ½ teaspoon salt. Spread on the baking sheet and roast, flipping or stirring once, until browned and tender, about 25 minutes.

3. Combine the crushed tomatoes, the heavy cream, and the balsamic vinegar in a mixing bowl. Combine the breadcrumbs with half of the Parmigiano and 2 teaspoons olive oil.

4. Bring a large saucepan of salted water to a boil. Cook the pasta until al dente, according to the package instructions. Drain the pasta well in a colander and transfer it to the bowl of tomatoes and cream. Sprinkle it with 1/2 teaspoon salt and a few grinds of fresh pepper. Add the mozzarella, the other half of the Parmigiano, the herbs, and the eggplant to the bowl. Stir well and transfer everything to the baking dish, spreading it in an even layer. Top with the Parmigiano-bread crumb mixture.
5. Bake until brown and bubbly, about 25 minutes. Let cool for a few minutes and serve hot.
Creamy Baked Pasta with Sausage Variation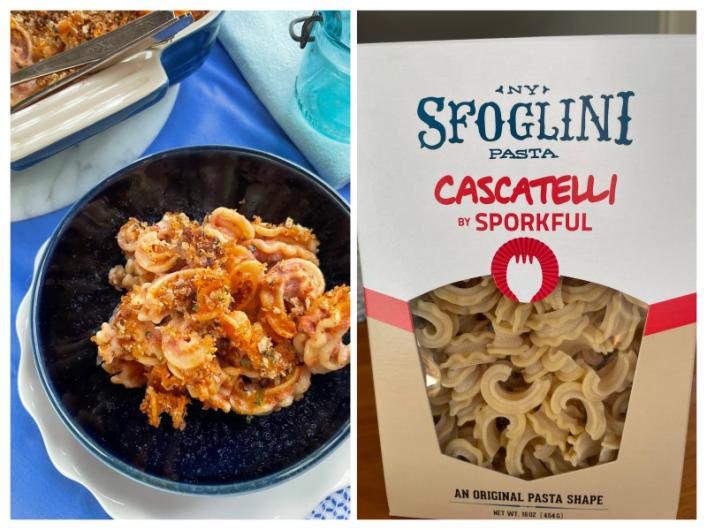 A box of Sfoglini cascatelli (a new pasta shape with a Vineyard connection!) on sale at Morning Glory farm and a purchase of bulk Italian sausage at Grey Barn Farm inspired me to make this variation. The cascatelli reminds me a bit of octopus arms in looks, but that's actually an awesome thing. All the nooks and ruffles in this wonderful shape grab on to sauce and other ingredients, and the mouthfeel of this high-quality pasta is superb.
To make this variation:
1. Use the ingredients list above as written with one exception: drop the eggplant, and add 8 to 10 ounces Italian sausage, casing removed (if necessary) and torn into small pieces
2. Follow the directions as written, except that you will be sauteing the sausage instead of roasting the eggplant (so you will not have to prepare a baking sheet with parchment paper). To saute the sausage, heat a few teaspoons of oil in a medium skillet over medium heat and add all the sausage pieces in one layer. Cook until browned on the undersides (3 to 4 minutes), flip, and continue cooking until cooked through, another 2 to 3 minutes. Transfer to a paper towel-lined plate.
.