Michael Gately grew up on Martha's Vineyard and always knew he wanted to settle down here. But as most Island kids come to learn, it's a lot easier said than done. "I had my eyes open," he said of his search for the perfect property, which came to him in the form of a teardown home in upper Makonikey in West Tisbury.
The original home, built in the early 1960s, was a one-story ranch with a one-car garage and a large north-facing porch that offered enviable views of Vineyard Sound in the distance. But over the years the house fell into disrepair, the forest took over again, cocooning the building, and the family opted to sell instead of salvage.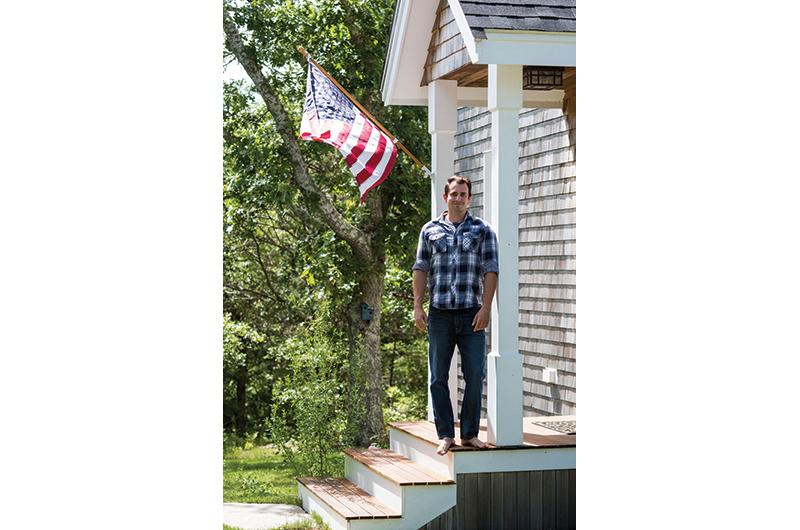 The home had been on the market for almost a year and a half by the time Gately saw it, and he surmises in part that it must have been because the place needed so much work that others were hesitant to buy it. But when you're young and an opportunity like this comes your way, you don't back down. Gately, who had graduated from the Massachusetts Maritime Academy with a degree in marine transportation two years earlier, secured a mortgage from Cape Cod Five Cents Savings Bank and purchased the home and surrounding two acres of land, which includes a pond, in the summer of 2013 for $349,000.
Then came the heavy lifting, literally. Gately purchased the house as-is, so he had to cull the contents of the home, filling up dumpster after dumpster to get the building ready for demolition. He saved a few pieces of furniture for what would become his own home, along with various artifacts like vases, hand tools, and even a sea glass collection that now live among his new things. "One piece is a diagram showing angles of the sun at different times of the year and times of day based on the location of the original house, which applies the same for mine as well," he said.
"I had to get special building permits, conservation permits. I had to do all of that twice," Gately remembered of the tedious process to first get approved to demolish the house, then get approved to begin new construction. "There was a lot of permitting involved, a lot of public hearings, a lot of paperwork." Making matters more complicated, he had to work around his somewhat unconventional schedule as a merchant mariner. "I sail on tankers all around the world," he said of his profession. "I'm here on the Island for ten weeks then on a ship for ten weeks."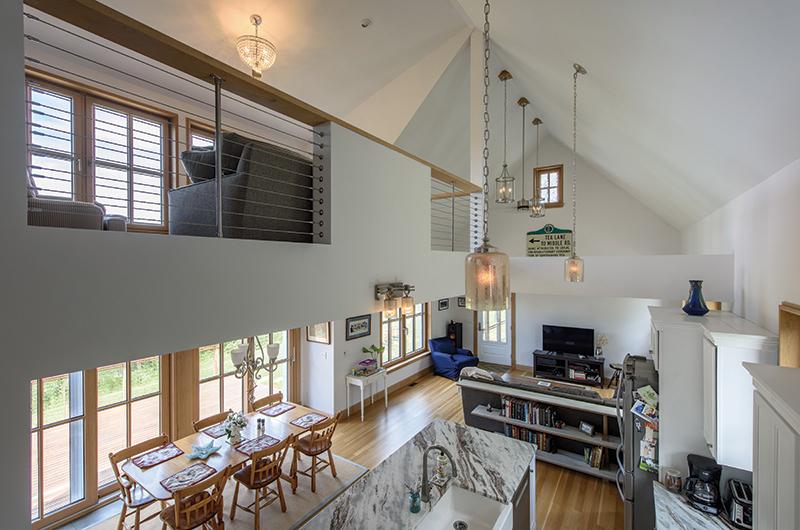 Almost two years after purchasing the property, he was finally ready to tear down the original house and start anew on essentially the same spot. "They put [the original] house here for a reason," Gately said of the previous owners. "And I sort of used that as a reference."
With the help of builder Farley Pedler of Farley Built Inc. and off-Island architect Steven Baczek, Gately and his longtime girlfriend, now fiancée, Olivia Larsen created their perfect vision of a home. "[The architect] asked us to write a narrative about how we live and how we want to live and what we see as our future," Larsen, who also grew up on the Island and is currently the programs coordinator at the West Tisbury Library, remembered of the process. With their story, Baczek drew up plans for an airy and open 1,900 square-foot, two-story home, complete with three bedrooms, two-and-a-half baths, and a loft. For efficiency, the home has thick walls and triple-paned European windows that help to significantly cut down on the cost of utilities. "It's like the house is wearing a big sweater," he said with a laugh.
Gately relied heavily on Larsen while he was out on a tanker to keep him in the know as the home was being constructed. "She was my building inspector," he said. "This house was built by phone and email." And lots of video chats.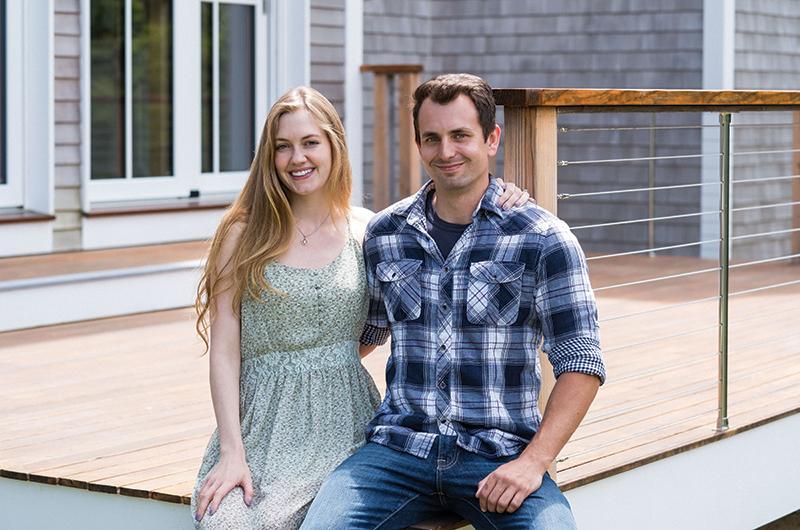 "A lot of decisions were made over Skype while he was gone," said Larsen.
Pulling into the driveway from Norton Farm Road off upper Makonikey, you're immediately captivated by expansive oak trees that descend to the water. The Cape Cod–style home is off to the left of the driveway and is fully shingled with small diamond details in the siding. An American flag waves in the wind by the front door. But like most Islanders, the couple often enters the house through a side door; theirs leads to a screened-in porch (the perfect napping area, said Larsen), which in turn brings you into the open living room, kitchen, and dining area. A large L-shaped couch provides seating for watching TV or just lounging with a book. The kitchen (backsplash tiled by Gately) features an island with a farmhouse sink in the middle and lots of storage space. Long pendant lights hang from the cathedral ceiling. Windows pour in natural light and give the open space an even bigger feel. Most of the artwork on the walls is courtesy of Larsen, who paints landscapes, flowers, fish, and birds with acrylic.
Above the dining room there's a loft area with a cable railing. In it sits Gately's piano, which he has played since he was about eight years old. Across from that is a tiny seating area that faces toward the windows, offering views of the trees and ocean beyond. A pair of binoculars rests on the windowsill. "We can see the ferries go by," Larsen said. Two guest bedrooms with a full bathroom in between make up the rest of the second floor, while Gately and Larsen's master bedroom is situated on the main floor, complete with a walk-in closet and en suite bathroom.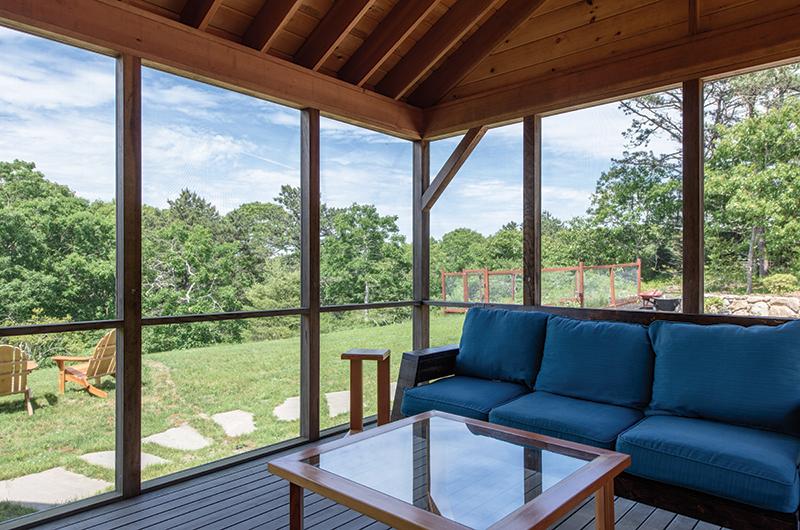 Furniture crafted in unique shapes and finishes is likely to catch your eye as you walk through the home. But don't think that you can buy them in a store – they are Gately originals. When the couple first moved into the home they had a large amount of leftover flooring. So Gately, who had never built furniture before, decided to take a crack at it. "We could buy cheap particleboard furniture, or I can make something out of hardwood, exactly what we want," he said.
His first attempt was a coffee table. "It was a challenge," he admitted. "Like how can I make flooring not look like flooring?" But his perseverance paid off. "He did it all while I was at work," Larsen remembered. "I came home and there was a beautiful table."
Since then Gately has turned the home's unfinished basement into his own work space, where he pumps out more custom-made furniture. He has made shelving for behind the sofa, side tables in the bedrooms, a floating bench for the front entryway, a table in the loft, and a couch and side table for the screened-in porch. For the outdoors he has crafted Adirondack chairs, a set of cornhole boards (which Larsen painted), a garden, and a chicken coop, now home to seven happy hens.
The couple has lived happily in their home for just over two years, but is still working toward adding a few other elements: "I think next is an outdoor shower," Larsen said with a laugh. And Gately is working hard to get the landscape perfect. He installed his own sprinkler system after spending hours watering the grass seeds by hand.
"I think we have done so much," Gately said about their time spent living in the home. "I can't be any more happy than where we are at."