Adam Brown grew up on the Cape, raised by his grandmother who hated fish. "It was difficult growing up in Massachusetts with a grandmother who would never put seafood in front of you," said Brown, now the executive chef at The Terrace at The Charlotte Inn, a place he calls home after living and cooking in Colorado for the past ten years.
He first realized he had a taste for fresh seafood while attending culinary school in New Hampshire. "That changed my life," he said. "I learned what I liked and didn't like, and what I really liked was white fish."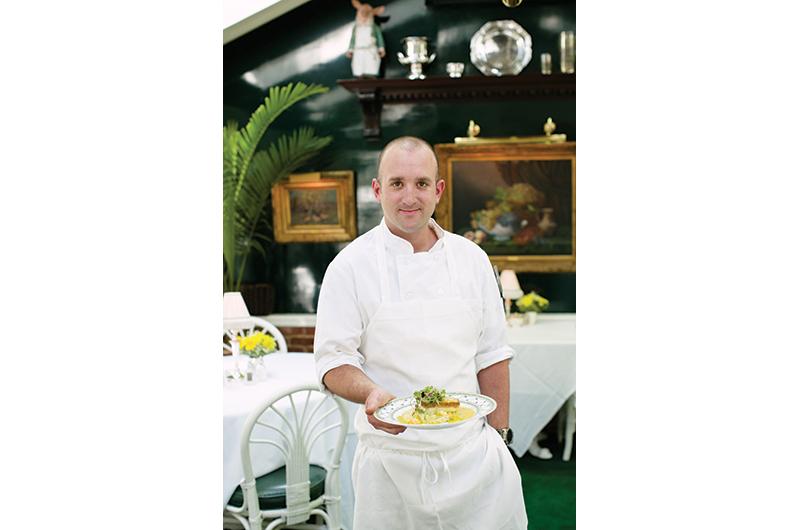 Now, more than a decade later, after stints in swanky dining rooms out West, Brown has returned to his seafaring roots and is cooking what is quite possibly the best white fish dish on Martha's Vineyard.
So what is the dish? Halibut with butternut squash risotto and saffron lemon beurre blanc. "It's all about the fish with no extra flair," Brown said of his star entrée, a new addition that attests to his classic French and Italian fine dining past. But this isn't a dish you would make at home, and for Brown, it's all about the timing. "The fish comes in and I clean it up and portion it out, put it on a hot pan face down with a little vegetable oil, and wait until that starts to smoke. Then with just salt and pepper I let it sit on the stove for thirty seconds to get the browning to start, then throw it in the oven and pull it out [when] it's almost cooked, so it has time to sit while I plate the risotto."
At The Terrace, what is old is new again, and Brown is the kind of chef who knows this: "Everything here is set the way it was twenty years ago, but the food has evolved, and I want to keep that consistent."
As for his grandmother, well, if she ever took the ferry to the Vineyard to enjoy the dining room at The Terrace, Brown thinks she might actually give fish a try. "I'm pretty sure she would say, 'I'll eat anything you give me, son.'"