Gary Maynard and Kristina Kinsman Maynard know houses. Owners of Holmes Hole Builders since 2001, they have been in the business of constructing innovative, energy-efficient, and often sprawling homes for clients across the Island. And over the course of twenty-six years of marriage, together they have built and lived in three family homes from Vineyard Haven to Chilmark, plus one sailboat from the Galapagos to Alaska.
So when, a few years back, Gary and Kristina decided to relocate once again, this time from their 3,500-square-foot farmhouse in the Spring Point neighborhood of Chilmark, they planned at last to build the house of their dreams. For a couple who has been known to dream big – sailing their ketch Violet on far-flung year-long voyages when their two daughters, now college-aged, were fresh out of diapers, for example – their dream house turned out, not surprisingly, to be the most sophisticated home they've built to date. Perhaps more surprisingly, with a footprint of just over 1,000 square feet, it also clocks in as the smallest.
What started as a financially motivated impulse – the recession of 2008, a lull in new construction, and two college tuitions on the horizon prompted the pair to consider downsizing – gradually morphed into a carefully considered lifestyle change.
"We loved our farmhouse," Kristina said, as we sat on the sun-drenched patio on the south side of their newly built cottage in West Tisbury. "But there were so many rooms that we never used. Beautiful sun porch? Never used it. Fancy living room? Never used it. We were in our bedroom, our kitchen, or our living room." Kristina turned, gesturing to the three compact boxes that linked east to west behind her. "So we built a bedroom, a kitchen, and a living room."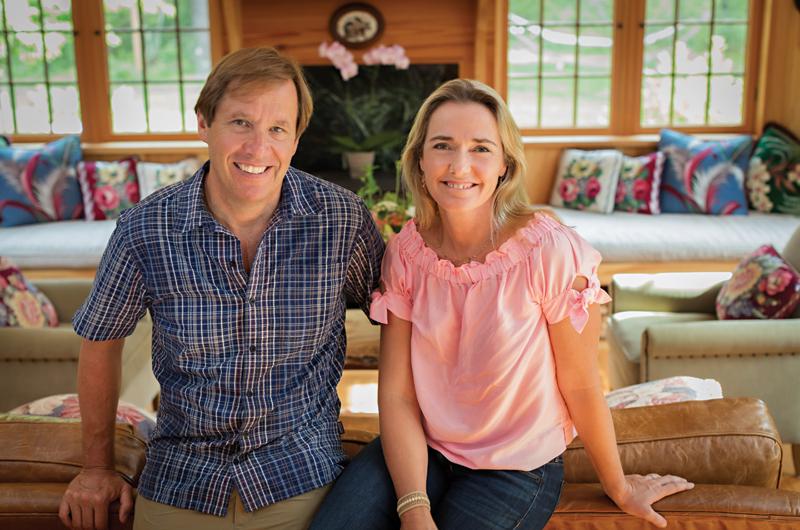 Nestled between Nat's Farm and the state forest, on approach the home appears to be a simple cape. But the ground floor living spaces sit atop a finished basement with two guest bedrooms, a second full bathroom, and ample space for storage.
Originally boatbuilders – Gary first came to the Vineyard in high school to work on the Black Dog tall ship Shenandoah, and the couple later helped rebuild the Alabama – the house is crafted with a shipwright's touch, featuring rounded purpleheart decking on the mudroom ceiling, built-in cubbies by the door, and a tight spiral staircase.
The experience of seventeen years of seeing houses go up across the Island allowed them to fully explore a variety of styles for their own home. "Because we've built so many houses for our clients and ourselves, and because we've lived in so many houses, including our sailboat, we were able to say, 'What do we really love?'" Kristina explained.
The couple considered a modern home at first, but ultimately decided it wasn't to their taste. "We really love old houses," Kristina said. "I wanted this house to look like the oldest house in the neighborhood." Accordingly, stone veneer, a simple façade trellised with hydrangeas, and white cedar shakes now lend the home a vintage cape appeal.
The process of designing the house was a collaborative one from the start. "I designed it with Kristina's help," Gary said. "And I had a friend do the drafting. We built with three sheets of plans, and a lot of shooting from the hip."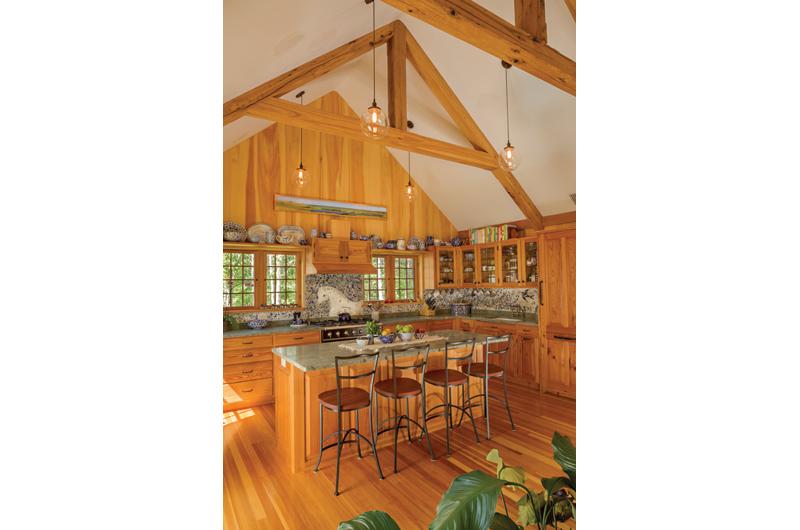 At Holmes Hole, they generally build architect-designed homes, with thick books of renderings, so the pared-down process was a treat for everyone involved. "Everyone who worked on it kept saying how much they loved it," Kristina said. "I think because it's so tiny, but with so much attention to detail."
Gary was able to get a crew on the job in between bigger projects, and because of its size the house was up in eight months. Gary enjoyed the rare opportunity to work alongside his employees. "I haven't done carpentry in ten years," he said. "I was a little rusty, but I think I impressed some of my crew a little bit. I came away with tremendous respect for my carpenters, how much they knew and how much they'd learned, and how much I learned from them."
As a couple used to working together, they found the design-and-build process smooth and familiar. "I think some people butt heads with their partner, but Gary and I have the same taste," Kristina said. "Gary tends to be in charge of building the structure and I'm the interior decorator. He trusts me and I trust him."
Indoors they continued to draw inspiration from other homes (and boats) they've loved, and in some cases they were even able to repurpose parts of their beloved Chilmark farmhouse on a smaller scale. One full kitchen wall in the cottage is a mosaic tile backsplash, originally created for the Spring Point kitchen by Jenifer Strachan, and reworked to fit the new space.
Many of the materials were salvaged from other homes or sourced through friends, another perk of working in the business. The antique floor panels came out of a Holmes Hole job and the wide pine boards on the wall came from a friend's mill in central Massachusetts. The doors were built by hand with vintage flair by friend Peter Ball.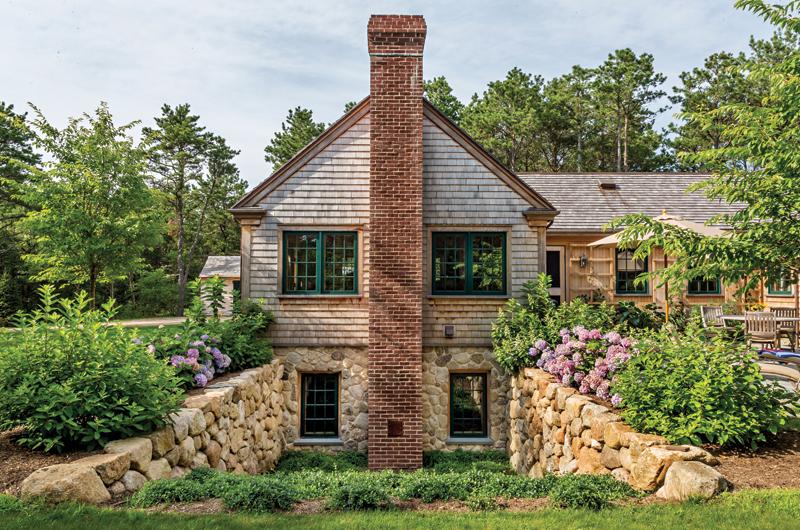 The cottage represents the best of the best of Kristina and Gary's shared history, both in experience and possessions. "We had to get rid of half of our stuff to move into our rental," Kristina said of the Vineyard Haven home they paused in while waiting for the perfect parcel of land to show up on the market. "And another half of that to move here."
But the exercise of downsizing was cathartic for both of them. "I used Marie Kondo's process of 'Does this bring me joy?'" Kristina said. "Now all we have are things we truly cherish."
Among the cherished belongings are decorative touches provided by Island artisans: Sylvie Farrington vintage pillows, a Scott McDowell sculpture, and Lisa Strachan ceramic lamps. "I love to support local artists," Kristina said, gesturing to a giant Shannon Rynd-Ray photograph of a horse hung over the couple's bed. "I look at this photograph and it brings me endless joy."
Separated from the living space by the boat-like middle passage, the bedroom is a quiet sanctuary. A wall of windows looks into the state forest and opens the small space to abundant natural light. Walk-in closets flank the bed. "That's another thing we found that we really like," Gary laughed. "Our own closets."
High on Kristina's wish list was a clawfoot tub in the master bathroom. "I'm a bath girl," she admitted. The downstairs bathroom has a shower, which Kristina encourages Gary to use, even providing him with his own monogrammed towels. "It's sort of a joke," she said. "Sort of."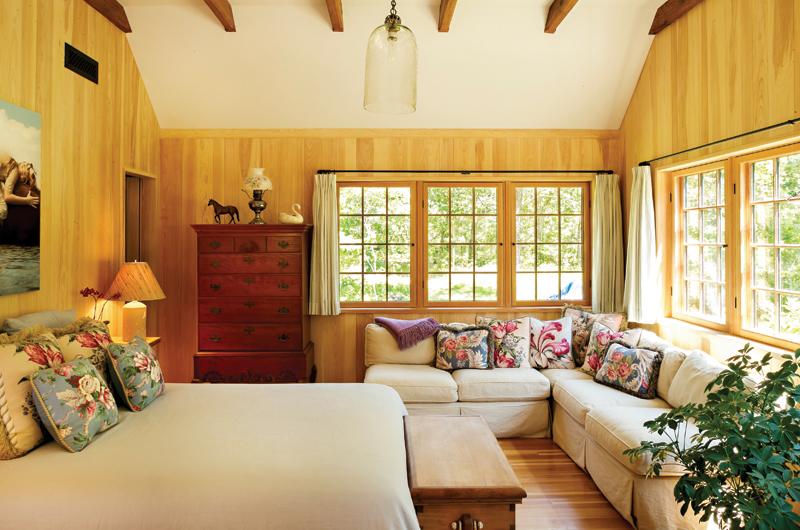 Gary pointed to the tiles in "Kristina's bathroom" to illustrate another advantage of building small. "This is a really nice, expensive marble tile, but if you're only doing a bathroom this big, you can do it."
Down the spiral basement stairs, on either side of the storage space and "Gary's bathroom," are two bedrooms shared by the couple's daughters when they return from school. Each bedroom faces south with windows cut into deep wells, allowing for a surprising amount of natural light.
Every thoughtful decision and space-saving hack – like the built-in benches in the living room that double as twin futons for guests – came together in a home that is perfectly suited for the couple, whether they are relaxing on their own or hosting the big holiday dinners Kristina looks forward to each year.
Anxious about having her first Christmas in the smaller space, Kristina asked her daughters what they thought of the new cottage. "They said, 'Mom, it's the best of all of our houses,'" she remembered. "'It's all of them together.'"