It was the house that made them do it. When Lainey Fink and Ben Scott, soon to be married and searching for an alternative to their busy, Boston-based lives, saw the house at the end of a long dirt road in a far-flung corner of Oak Bluffs, they hadn't yet decided that the Vineyard was the place for them. It was the first house they'd looked at in person in a search they imagined would span a number of coastal communities, and there was no question that it needed work.
"I did a drive-by first," Scott admitted, when we met in the couple's shared home office, one half of a converted basement that serves as a base for their successful graphic design and branding firm, Bluerock Design. "A few days later – it was New Year's Eve – Lainey came to visit. We realized it was kind of a game changer because it was exactly what we were looking for."
It's a story seldom heard on an Island where young couples are often priced out of starter homes, and even those who grew up here, as Scott did, struggle to find ways to stay or return. And while others may not have seen much in the nearly 1,400-square-foot, three-bedroom timber-frame house, Scott and Fink, both thirty-one, knew they'd found something special.
"We saw the potential in this place that had been built with love, but needed the attention it deserved," Scott said. "As two designers, we walked in there and realized we could deal with it. We could make this feel like us."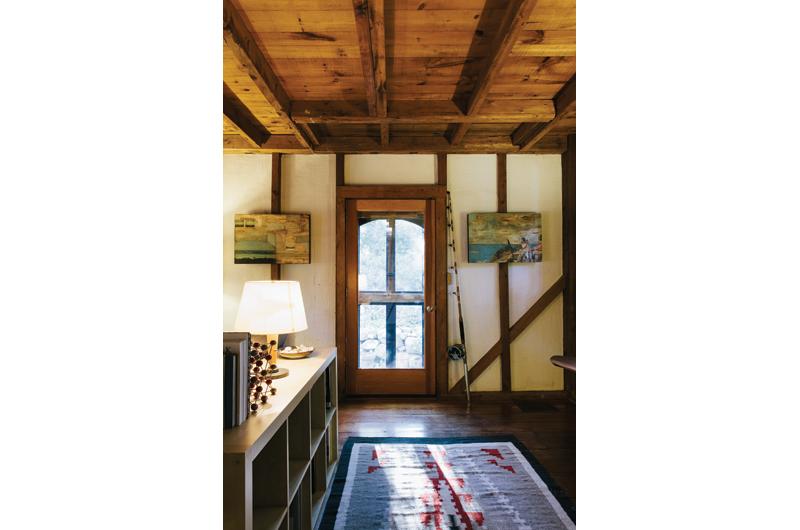 "It already felt like us," Fink amended. "It just needed a facelift."
What they didn't know then was that the house had already been lifted, quite literally, when it was moved beam by beam from its original location, near what is now the Island Alpaca farm. Built in the mid to late 1800s, the old farmhouse had once been home to well-known Island families like the Luces and Duarts, but by 1980 it had fallen into disrepair and was on the verge of being torn down. "They were going to use it as a training area for firefighters," Scott said.
Instead, the house was saved by Peter Palches, former superintendent of the Martha's Vineyard public schools, who saw an ad in the paper. Palches gathered a crew and disassembled the building, loaded it onto trucks, and moved it a mile and a half down the road, where he put it back together bit by bit.
What Palches and his crew weren't able to salvage from the original structure he repurposed from other places, lending the updated Cape a deliberately authentic feel. The front room of the house, a brick-floored solarium, was built with wood salvaged from the old Tashmoo town docks, and windows were rescued from a factory building in Boston. Thoughtful touches like these, and the numeric etchings scrawled into the original timber frame beams, won over Scott and Fink right away, and though the house needed major renovations (a new roof, for starters), they sensed the final result would be well worth it.
There is still work to be done. Fink dreams of updating the kitchen and Scott hopes to winterize the three-season solarium, which once served as a jam spot for Island musicians. But the couple is in it for the long haul, and, as coworkers and creative partners, Fink and Scott are in the business of collaboration.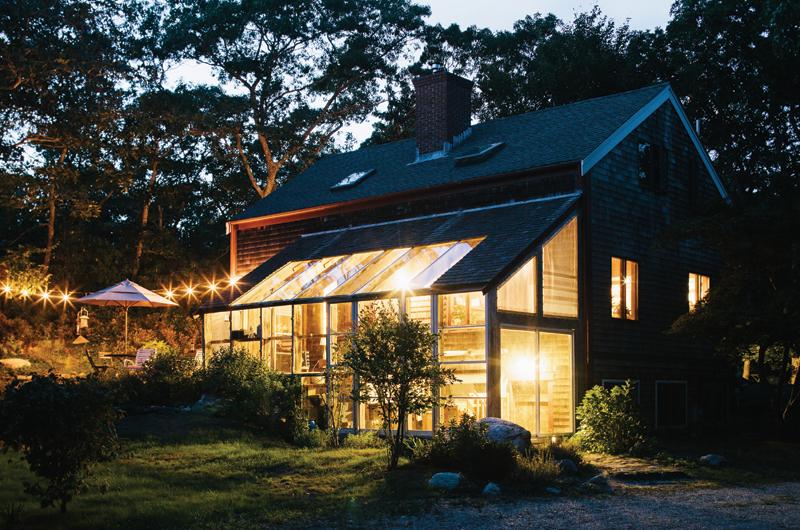 Bluerock Design was started in 2011, after Fink and Scott, who met as undergraduate students at the Rhode Island School of Design (he graduated in 2007, she in 2008), had paid their dues working long hours at separate firms. "I burnt out very quickly," Fink said of her time at a large advertising agency in Boston and a coveted design internship in New York City. "I learned a lot. I met some really cool people, had some awesome experiences, and went on cool photo shoots," Fink said. "But we felt really passionate about working for ourselves."
After setting up shop in the closet-sized apartment the couple shared in Boston's South End, Fink and Scott decided they needed room to spread out, personally and professionally. "I didn't know I wanted to live on the Vineyard," admitted Fink, who grew up in upstate New York, but had visited the Island as a child. "I was nervous about the island thing. But Ben had always wanted to move back here, so once we saw this house it changed my mind."
With a vibrant roster of clients already on board, including L.L. Bean Signature and Neiman Marcus, the couple didn't set out to court Island businesses. But local connections led to new projects, and Bluerock Design now handles everything from branding to web design and print materials for a number of Island organizations: established institutions such as the Harbor View Hotel, Martha's Vineyard Hospital, and Island Grown Initiative, as well as newer startups, such as Honeysuckle Oysters.
Sitting side-by-side at the desk Fink's father custom-built for the home office space, Fink and Scott share tasks and projects in a comfortable rhythm. "We knew that we were going to work well together because we always collaborated," Fink said. "Even back in college we would throw each other ideas."
For Scott, design work has been a natural extension of his first love: photography. A supportive family and a strong, nascent digital photography program at the Martha's Vineyard Regional High School, led by Chris Baer, gave him an early start in both photography and design.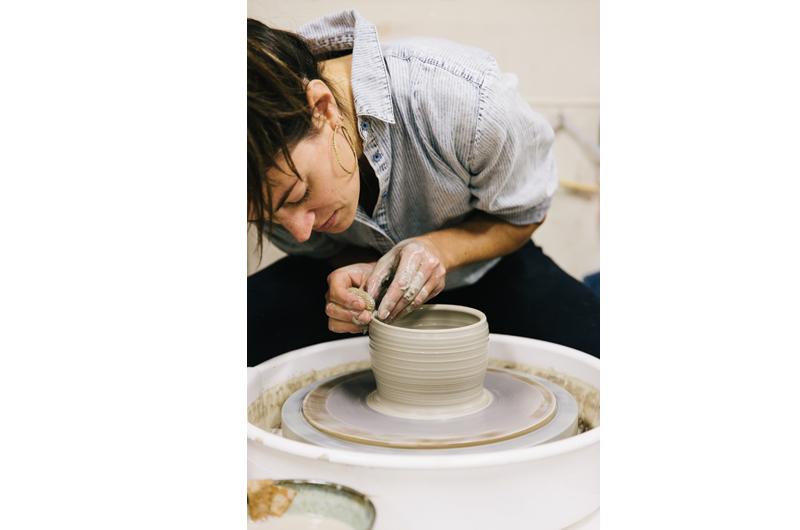 "There was no question in my mind that I wanted to go to art school," Scott said. "One of the hardest parts of RISD was the foundation year. I got there and I was a hotheaded eighteen-year-old kid. I just wanted to do design and photography, and they wouldn't let me do it. But the result of the exposure to art history and sculpture and painting…it kind of all integrated together."
Growing up in the woods of Rhinebeck, New York, Fink was also drawn to the arts from a young age. "My grandfather was a wallpaper designer," Fink said. "A graphic designer before graphic design existed." Though she loved "anything art-related," she chose to study graphic design at RISD, as it seemed a practical way to earn a living while continuing to pursue a creative path.
During winter session, where students were encouraged to explore areas outside of their chosen fields, Fink chose electives in a variety of artistic disciplines. But it was a pottery class that called to her most, and instilled in her a love for the craft that has served her well, first as a hobby and now as a side job.
"I took the class and I was completely obsessed," Fink remembered of her first weeks at the wheel. "There was just something about it that pulled me in. Maybe it was because I was so used to staring at a computer screen. Working with my hands, getting dirty felt really good."
Though pottery took a backseat to the demands of her budding career as a graphic designer in the city, Fink longed to one day return to the craft, when time and space allowed. Soon after settling on the Vineyard, Scott introduced her to Featherstone, the nearby community arts center, which offers equipment and studio space for artists of all kinds.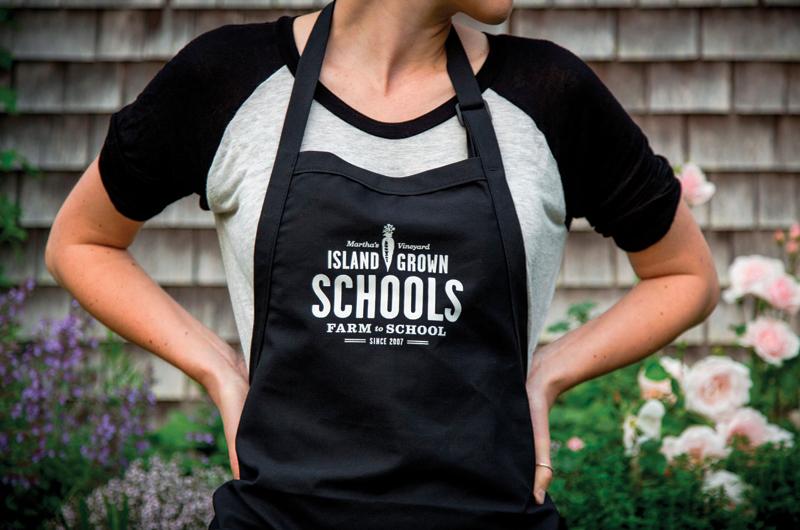 "I spent every single moment of their open studios over there," Fink laughed. She started off by making cups and small plates, hoping to outfit the kitchen in their newly purchased home. Soon, she found she couldn't handle being limited to the studio's schedule. "I wanted to be there every night," she said. "So I bought a wheel and put it in the basement."
The unfinished portion of the basement, connected to Bluerock's office space, has now been converted into a makeshift pottery studio, with cups, bowls, plates, and vases stacked on shelves on every inch of wall space. Cans of glazes are stacked on the floor across from a small potter's wheel, which sits beneath a chalkboard scrawled with notes and dimensions for recent projects. Two kilns are tucked in a corner near the door.
In the beginning, pottery was simply an outlet, a way to unwind from long hours at her day job in the room next door. "I wasn't thinking about selling," Fink said. "I was just really enjoying it, having fun and doing lots of research, and looking at inspiration. I was taking the time to do it for myself, which was so awesome after all of these years of not having that."
Through design work that Bluerock had done for the Harbor View, Fink and Scott met and befriended chef Nate Gould, then at the helm of the hotel's restaurant. When Gould took a job at the Beach Plum Inn the following summer, he commissioned Fink to supply the dining room with new plates and bowls. "It was so exciting," Fink beamed. "I couldn't believe I was getting paid to do pottery."
Her work for the Beach Plum led to other commissions: wedding gifts for private clients and pieces for other Island businesses. After being hired to rebrand Vineyard Haven's Morrice Florist, owner Emily Coulter asked Fink to make a collection of vases and planters to sell in her shop. Fink also sells ceramic coffee mugs at Behind the Bookstore in Edgartown.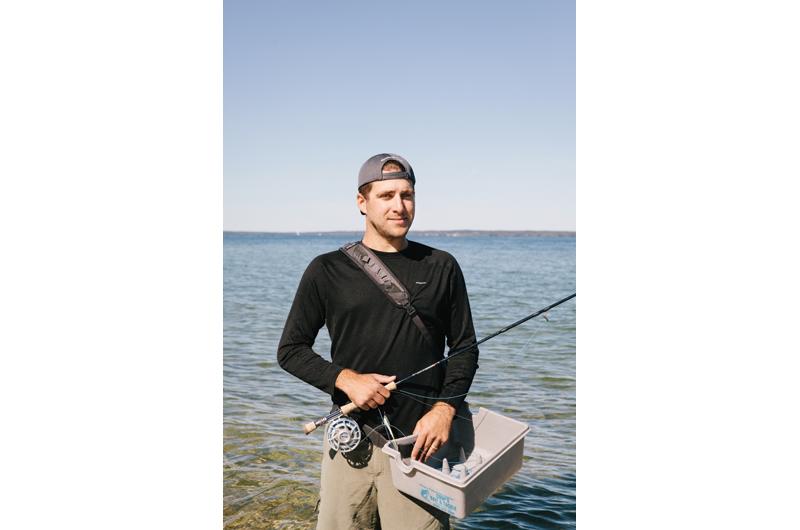 All of this new demand for her pottery has meant longer nights in the basement studio, after wrapping up design work with Scott. "There were periods of time when I never saw her," Scott said, though he added that working together from home means they're never too far apart. "Now we have the opposite problem from most married couples. We have to say, 'How do we not see each other for a few hours? What can we do to go away from each other?'"
Scott attributes the couple's improved work/life balance to their new home and the rhythms of Vineyard life. "I believe that you have to have lots of passions in life that give you moments of pause," he said. "For me it's being able to go fly fishing and tinker with my bonsais. For Lainey it's being able to go in there and create pottery, to make something out of mud."
Fink and Scott have found that they are more productive here, working on their own schedule and out of their own home. "The Vineyard is so inspiring," Fink said. "It's just beautiful, and there's a buzz creatively."
"The Vineyard is a great place because people's ideas ricochet off each other," Scott said, citing the geographic limitations of living on an island as adding an important component to their work. "We have artists, painters, musicians, diplomats; we have the president. I hesitate to use the word 'diverse,' but creatively and esoterically speaking, it's a diverse place."
Scott recognized that while many designers find the pulse of city life conducive to creating, he much prefers the quiet and space that living on the Vineyard affords. Fink agreed. "I found the city distracting and anxiety-provoking," she added.
Scott gestured through the basement door, up the patio steps to where a row of bonsai trees sat in custom clay pots, the couple's most recent collaboration. "Now I get up and I water my bonsais," he said. "I watch the hummingbirds and I listen to the crickets at night. That meditation is something I couldn't get anywhere else. Living here is like taking a deep breath."