Giddy high-pitched shrieks and giggles pierce the languid summer air as two small figures hurtle past and land with great splashes in the pool. The girls, three and five years old and clad in vividly colored swimsuits, implore their smiling mother, "Watch me, Mommy, watch me!"

The old maxim, "It takes hands to build a house, but only hearts can build a home," comes to life with Dianne and Gerret (Gery) C. Conover's creation of a one-of-a-kind, in-town family compound in Edgartown. There are stories about houses and then there are stories like this, about homes and the people who fill them with love and laughter.

Starting with a barn

The story begins in 1989 when Gery, then single, purchased an updated barn on a quiet tree-shaded lane in Edgartown, a short stroll from the bustle of Main Street. Although the barn was, in Gery's words, "a perfect 1950s time capsule," it had been built as part of a larger estate in the late 1800s and had served as a horse barn, a sculptor's studio, and finally, as a private home.

In its most noteworthy incarnation, the barn provided the training ground for promising artists under the tutelage of summer resident and celebrated sculptor Enid Yandell (1870–1934), a native of Louisville, Kentucky. Enid rose to national prominence in the early twentieth century following her studies with Auguste Rodin in Paris. With studios in both Paris and New York City, Enid purchased an in-town Edgartown home and turned the adjacent barn into her seasonal workspace. In 1908 and for several seasons thereafter, she operated the Branstock School of Art, offering summer classes in modeling, drawing, woodcarving, illustration, and painting, as well as in handicraft and decorative design, assisted by other well-known artists and artisans. The first woman member of the prestigious National Sculpture Society, Enid was also recognized in Europe and in the states for her dedicated public service, social conscience, and support of women's suffrage.

By the time Gery purchased the barn, it had been converted to a private home, adorned with deep stucco and the bright, optimistic colors of the mid-nineteenth century: pinks, greens, and yellows. "It was still known as 'the studio,'" he explains, "and it had a funky, totally fifties feel." It was, as he puts it, "George Jetson meets Africa/China/Post-Modern."

Though drawn by the barn's unique character, enormous fireplace, imposing great room, and original ironwork, Gery set to work in the early 1990s, painstakingly remodeling and restoring the vintage structure from top to bottom. He replaced the modern windows with traditional twelve-over-twelve windows, added shutters, updated the kitchen and two and one-half baths, bumped out the second floor with a dormer, removed one of two interior stairways, added bookshelves above the great room, and created a serene exterior landscape. But it was his innate love of decorative arts that gave the renovated barn its soul.

Gery had moved to the Island in 1971 at nine years of age. His parents purchased Edgartown's Charlotte Inn, then a dilapidated and shuttered former bed-and-breakfast that hadn't been open for business in fifty-four years. As they restored the property on South Summer Street and transformed it into what has become a member of the prestigious worldwide Relais & Château collection of hotels and restaurants, they also created the Edgartown Art Gallery next door. Gery grew up surrounded by vintage architecture, antiques, and fine art – passions that he continues to embrace in both his work and life today.

As a partner in LandVest, an Edgartown real estate company specializing in waterfront and historic homes, and as principal of Conover Restorations, a design/build firm known for its attention to historic details, Gery remains immersed in architecture and interior design. So it comes as little surprise that he imbued the barn with his very personal interpretation of gentlemanly living. With its deep red and green walls, rich woodwork, floor-to-ceiling bookshelves filled with hundreds of leather-bound volumes ("I've read them all," Gery quips), scores of original oil paintings, antique games, tobacco tins, metal advertising signs, and other ephemera, model ships, and vintage furnishings, the house could serve as the location for a Ralph Lauren photo shoot. The only missing ingredient in Gery's world back then: the vacant lot next door.

"I dreamed of owning the land," Gery admits. "In fact, I was so hopeful that I'd own the lot someday that I built French doors off that side of the barn so that they'd be in place when the time came. But when I put them in, they were doors to nowhere."

Building a compound

By 2000, Gery's vision was complete. He purchased the lot when it became available, installed a pool with surrounding bluestone terrace, fenced the yard, and built a charming three-walled pool house with white painted brick walls, vaulted ceiling, exposed beams, and tile floor. The intimate space is decorated with the same nod to the past – its comfortable wicker furniture, antiques, and artifacts provide a cozy backdrop to the big-screen TV and fireplace that extend its season well into autumn for watching Sunday-afternoon football games with friends.

By the time Gery and Dianne met and began dating, he was contentedly installed in his extraordinary bachelor pad, with the heated pool and pool house in place on the lot next door and still dreaming, according to Dianne, of the house he had hoped to build for his someday family.

"I remember one night we were sitting in a bar in Edgartown, and Gery started drawing a picture of his dream house on a napkin," Dianne recalls. "I wish I'd kept it, but I think it's pretty close to the one we ended up building."

In 2006, two years after meeting, the couple married.

Dianne, a former schoolteacher for seventeen years in Bolton, looked forward to her move to the Island and into the barn.

"I'd met Gery's family and friends," she says, "and by the time I moved here, it felt like coming home." She looks back at their time alone together in the restored barn as idyllic. "It was just Gery and I, and it was beautiful. We'd watch TV next to the fireplace. The house envelopes you. It was so comforting."

But within several years, the Conover family grew to four with the arrival of two daughters. "Once our younger daughter was born," Dianne explains, "we were kind of squished. There's not much storage in an old barn."

Gery and Dianne set about making Gery's long-simmering dream home come to life, collaborating on a three-bedroom, three-and-a-half-bath design that would work for their young family. Gery's expertise in building and restoration enabled him to develop and complete the interior and exterior home design, including the landscaping, using Conover Restorations and its established network of resources.

Gery is frank about the design collaboration with Dianne: "I'm opinionated and headstrong and I play a stronger role than most. I also enjoy interior design. I was surprised that Dianne, who had no experience, played an active role and we had a lot of fun doing it together. In fact, many of the final choices were hers."

"We loved the richness of the old house," Dianne elaborates. "Its color, age, antiques, paintings. It worked so well for us. But with the new house, we envisioned much more space with an open, airy feel. We also went with more neutral colors. We're so happy with the color scheme and furniture. Gery made all the behind-the-scenes decisions but he welcomed my input on the space, the furniture, wallpaper, and fabrics."

As the new house rose, Gery's long-held concept of a family compound came to fruition. The barn became the guesthouse and entertainment area, while the new house serves as the family home, with the pool as centerpiece to both. A hallway connects the old with the new, and the compound sits on what is now a seventeen-thousand-square-foot lot. And according to Gery, because he kept his beloved bachelor pad, the shift to marriage, family, and new home was remarkably smooth.

"I have great memories," he says, with a barely detectable sigh. "I feel like I've always lived here and because we designed and built the new house together, it was a great transition. I didn't really have to move – just a bit at a time."

Touring the main house

Accompanied by the family's graceful Blue Abyssinian cat and fluffy white Havanese dog, Gery chuckles at how his life has changed.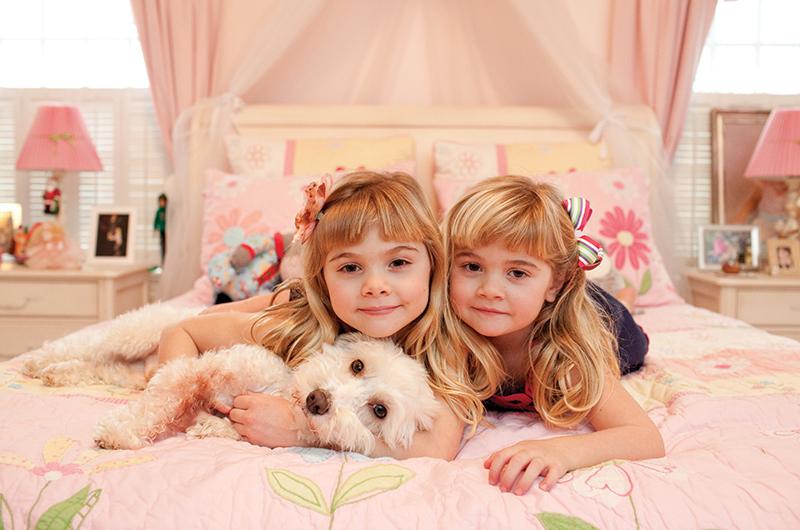 Proudly pointing out his daughters' identically furnished pastel-hued bedrooms and the newly constructed basement playroom complete with a mini-diner (red sparkle seating plus a disco ball and an in-the-planning-stages regulation bowling lane), it's clear that he, Dianne, and the girls are inhabiting a home custom-suited to them.
And while the girls were very young during the planning stages, Dianne insists that they played an active role in the decorating of their cheerful, whimsical rooms. "They chose the colors, bedspreads, sheets, towels, draperies, and artwork," she says. "They're pretty rooms to wake up to – safe and happy places for them to play. They realize how fortunate they are."
A contrast in shape and design to the barn, the new house, though mostly shrouded from the road by fence and shrubbery, fits seamlessly into the traditional Edgartown streetscape.
Characterized by Gery as "classic but open, livable," the house is white painted clapboard on the front and natural shingle on the sides and back. And in contrast to the darker tones and more rustic feel of the barn, the new house features a more contemporary flow and a bolder, stronger decorative style.
According to Dianne, the palette was selected for its calmness and serenity.
"We chose cool, classic colors – grays, whites, blacks – strong moldings, and tile work," Gery points out. "The decorating is more minimalist, more contemporary, but in a classical architectural setting."
Breakaway doors, made by NanaWall Systems, allow the living areas of the house to open to the pool terrace, giving much of the first floor a resort feel and a welcome blurring of the distinction between outside and in. Upon closer scrutiny, a porthole in the wall between the dining room and the family room cleverly reinforces the feeling by providing a continuous film loop of Edgartown harbor.
The centerpiece of the new house is the enormous English-inspired kitchen with curvilinear island that's a magnet for family and friends. With its pressed-tin ceiling, floor-to-ceiling white painted cabinetry, chef's appliances, and openness to the other living and outdoor spaces, the statement kitchen made the top of Dianne's must-have list.
"It's where everyone gathers," she says, "for three meals a day, friendships, and family. We don't have an ocean view from our in-town location but we created beautiful views of our own from this space."
Gery, too, enjoys the ambience of the kitchen area. "In the summer, it's all about the pool and outdoors," he explains. "But in the off-season, we'll have a dozen adults gather around the kitchen island while all the kids play downstairs. And we have Apple TV above the range so we can watch to be sure they're safe."
But just as important as the spaces they created for the impromptu parties they love to host, Dianne and Gery agreed that their master suite had to provide an intimate, soothing haven for their private time. The bedroom is opulent in feel, with lush wallpaper, fabrics, and linens, as well as chandeliers in both
the living space and in Dianne's spacious bathroom.
"We wanted it to be bright," Dianne says. "We went with a sage green and Tiffany blue mix for a feeling of happiness and coolness. The colors all blend and I love the richness of the bed with draperies around it."
Because Gery and Dianne knew they'd miss two of the barn's key features, they incorporated them into the new house. A large palladium window and vaulted ceiling, both in the former master bedroom, are replicated in the new master suite.
"We had a beautiful view of the lane, the [Federated] church steeple, and the moonrise," Dianne explains. The new window overlooks the pool and a different steeple – at the Old Whaling Church – but it offers the same sense of magic, she says.
Both the old and the new houses double as galleries for Gery's extensive trove of art and collectibles. The works of two of his favorite painters – both Island residents and traditionalists – Ray Ellis and Ellen McCluskey (not coincidentally, Gery's mother) populate the walls. A remarkable array of mid-century illustrator paintings (book covers and art from advertisements) captures the romance and extravagance of the Mad Men era. Dianne's favorite McCluskey painting, of the Federated Church (where she and Gery were married), was a wedding gift from his mother. These collections, along with the meticulous details like the hand-milled woodwork, timeless Farrow & Ball wall coverings, as well as the exuberant pinks, greens, and sky blues of the girls' bedrooms, transform the property into a beloved and individualized home.
And while they appear complete, both the old and new houses remain in a state of flux. Gery envisions a TV room adjacent to the dining room in the new house, as well as a two-car garage, covered porch, and arbor. As for the barn, he plans to convert much of the kitchen to a wet bar and the dining room to a billiards area.
Several decades in the dreaming and two years in the actual making, the Conovers' home stands as a testament to imagination, careful planning, meticulous construction, and ongoing nurturing.
"It's the best of both worlds," Gery concludes. "We combined the old and the new to create a finished home that can host more than one hundred people for a party but also feel like a perfect family setting."
Dianne's advice to others considering renovating or building: "It can be stressful. There are huge decisions to be made. Try to get through them with a light heart, a smile, and laughter."